Lack of laws, enforcement leave boaters in the dark around killer whales


FRIDAY HARBOR, Wash. -- As the state watches the plight of a sick southern resident orca known as J50, environmental groups are gearing up to sue the Trump administration.

Their hope is to establish a mandatory whale protection zone, or "no-go zone," along the west coast of San Juan Island.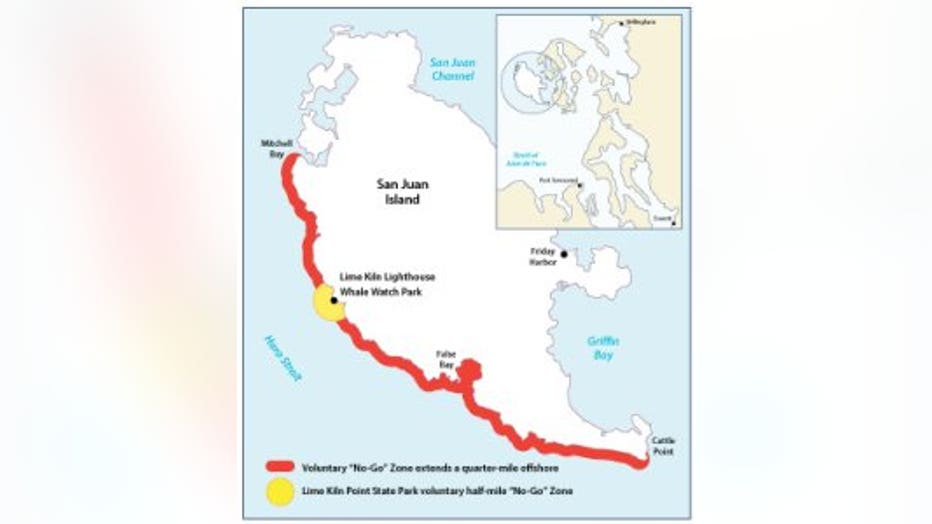 File Photo of Voluntary No-Go Zone


The no-go zone would limit vessel noise in an area that is critically important to the endangered southern resident killer whales.

This type of proposal has been tossed around for years. There's already a voluntary whale protection zone in the area.

But, voluntary guidelines are falling short of protecting southern residents, many close to the whales say. And whether or not mandatory protection zones could work without a big boost in enforcement remains to be seen.

The problems of voluntary no-go zones

Vessel disturbance is considered one of the three main threats - along with lack of food and pollution - impacting southern residents.

Vessel noise impacts their ability to search for salmon, research has shown. Killer whales emit high-frequency clicks to forage for salmon. Extending boat-free zones may helps alleviate the noise in waters crowded by small, personal crafts.

Despite research showing noise impacts the endangered marine mammals, there are very few regulations in place to keep whales safe around boaters.

And most there are just guidelines, and aren't enforceable other than suggesting changes to boaters.

Q13 News' Simone Del Rosario spent a day on the water with Soundwatch's Taylor Shedd. Soundwatch was created in 1993 as an effort to prevent vessel disturbance on whales.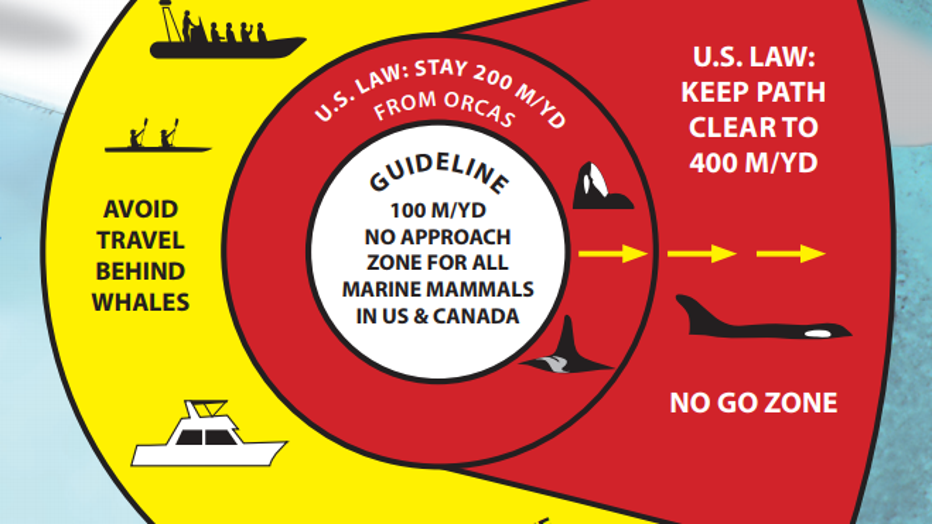 Whale Wise guidelines. From WDFW.


Soundwatch is not an enforcement agency like the Washington State Department of Fish and Wildlife. But hundreds of times each summer, Shedd talks with boaters about the law, as well as voluntary no-go zones around whales.

Currently, it is unlawful to:


But Soundwatch data shows just about 31 percent of recreational boaters knew these rules in 2017.

Some other important recommendations for protecting whales, including slow speed zones and avoiding traveling behind whales, are guidelines not punishable by law.

"I'm not enforcement," Shedd said. "I can't ask people to stop what they're doing."

The lack of enforcement

WDFW is in charge of enforcement. Incidents against whales spike when WDFW boats aren't around, studies show, with recreational boats and Canadian whale watching boats changing their attitudes most dramatically.

"We need to be aggressive," said WDFW Sergeant Russ Mullins. "It's like the trooper in the median, even people who aren't speeding have a tendency to slow down."

Typically during the summer, WDFW has one boat patrolling the waters each day where whales are active. That's not a lot for the number of boats in the area, Mullins said.

Of course, more enforcement takes more funding, a point Mullins has communicated to the governor's Orca Task Force. He also mentions which guidelines he'd like to see turn into law.

"They are guidelines so they're not enforceable," Mullins said. "If they were to become law they could be enforceable which would be much better."

One of the recommendations the task force is considering is making a mandatory slow speed zone within a half mile of the whales. The is a guideline the Pacific Whale Watch Association is already following.

For boaters, it's important to remember that if you see whales - SLOW DOWN. Don't chase them from behind or get in their path. If you end up closer than the mandatory 200 yards away, shut down your engine until they pass, Mullins said.

For more information on Be Whale Wise guidelines, visit the NOAA's website.

For more information on Soundwatch and to make a donation, visit their website.