King county rivers running high and fast; no major flooding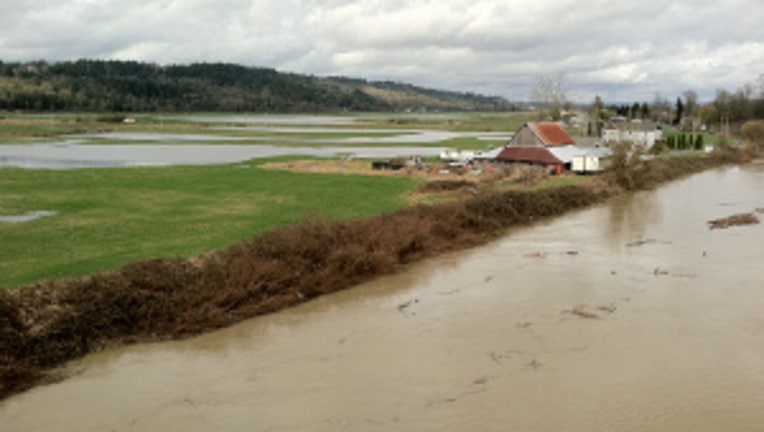 article


SEATTLE - Here's the good news: even thought major rivers in King County are running high and fast, there's no major flooding currently, or in the forecast.  The King County Flood Warning Center has issued a phase 3 alert for the Snoqualmie River, and a phase 2 alert for the Tolt and Green Rivers.  The recent heavy rains has increased river flows, with some minor to moderate flooding.

This information was released at 1:15pm Sunday:

Flows on the Green River were expected to exceed 8,000 cubic feet per second (CFS) at the Auburn gage early Sunday afternoon, triggering the Phase II flood alert level from the Flood Warning Center, which has been open since 12:30 a.m. on Sunday, March 9 to closely monitor flood flows. At this level, only minor flooding is typically expected to occur in rural areas of the Green River upstream of Auburn.

Meanwhile, the Snoqualmie River remains at a Phase III flood alert level, with moderate flooding of varied levels occurring across much of the Snoqualmie River Valley. As of 12:15 p.m., the sum of the Snoqualmie River's three forks was at 21,760 CFS, down from the 25,300 CFS level recorded at 8:15 a.m. Sunday.

Flows on the Tolt River at Carnation have also begun to drop. As of 12:15 p.m. Sunday, the Tolt River gage at Carnation was at 4,460 CFS, after a peak of 5,720 CFS at 5:15 a.m. Sunday. At these flows, increased water depth and velocity could be expected in the San Souci neighborhood upstream of Carnation, including likely flooding across Tolt River Road Northeast in the San Souci neighborhood.

The Flood Warning Center will remain open as long as flood conditions persist. Flood Warning Center staff will monitor stream gages and weather reports, and will provide updated information on river conditions as necessary. Real-time river level information is available online at kingcounty.gov/flood.