King County deputies arrest 8-time felon accused of threatening man at gunpoint, stealing cars
FUGITIVE CAPTURED July 29, 2016 --
A Kent fugitive who told officers he was too smart to get caught is Washington's Most Wanted Capture #791.

King County deputies got anonymous tips on Thursday from viewers who saw our WMW/Crime Stoppers alert about Andre Bryant. The tipsters said he'd been spotted on 26th Ave. S. in Auburn. When deputies arrived, they saw Bryant walking into a home. They set up a perimeter and contacted him. He was arrested without incident and booked into the King County Jail early Friday morning.

FUGITIVE WANTED IN KENT July 15, 2016 --
You don't want this convicted 8-time felon pointing at you -- especially because cops say it could be a gun he's aiming your way.

Kent Police are looking for Andre Bryant for felony harassment, being a felon with a firearm and stealing cars.

Detectives say twice last month they had to call off a pursuit of Bryant, who blew through the lights at busy intersections in a stolen Honda. When they finally found the car in a Kent apartment parking lot, a witness told them he feared for his life after exchanging words with Bryant. "He threatened the victim with a firearm," says Kent Police Det. Melanie Robinson. "Based off his escalation and the fact that he's running from the police, he's eluding the police at all efforts and not caring about anybody else and brandishing firearms and things of that nature, this is someone you want to get off the street. He's a danger to the community and danger to all."

Detectives say Bryant's been arrested dozens of times.

Take a look at the cross and horned bull tattoos he has on his arms. He's also inked with the name 'Daylon' on his neck.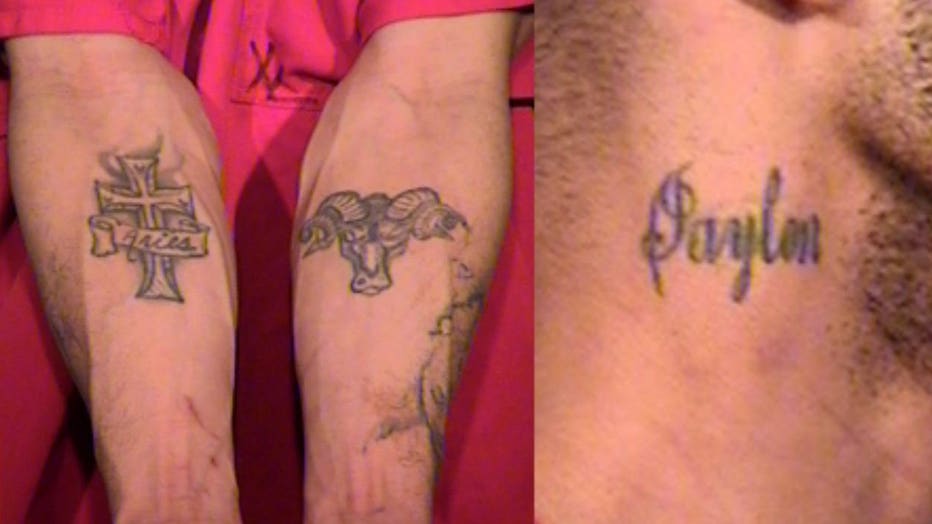 Detectives say he has ties to Kent, Renton and the Skyway area of King County.

If you know where Andre Bryant is hiding, call an anonymous tip into:
CRIME STOPPERS: 1-800-222-TIPS

You must call the Crime Stoppers hotline with your tip to be eligible to receive a cash reward for information leading to a fugitive's arrest.