King County Council arena vote: The final hurdle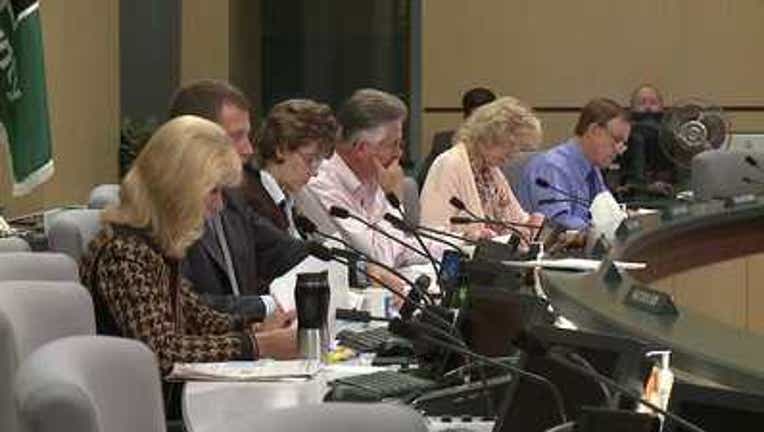 The Sonics arena deal needs one more stamp of approval before investor Chris Hansen can go shop for an NBA team.

The King County Council approved Seattle Mayor McGinn's original arena deal (in july?) by a 6-3 margin, but a re-vote is needed to endorse the new terms that the Seattle City Council sought, including more money from Hansen for Sodo road improvements, for KeyArena upgrades and for personal guarantees if problems arise.

"I'm a lot more optimistic about the fact that we are going to get a lot more votes out of this body with this process that's before us today," said Pete Von Reichbauer, who opposed the plan in the summer.

Councilman Larry Phillips opposed it as well, but he said he's now on board given the new changes that favor the public.

"It's a much better deal," he said. "If you are a citizen of Seattle, you should be very proud of the City Council's work."



Phillips said he and his county colleagues should have negotiated the new terms in the summer before sending the deal to the city, but that other council members were determined to rush the process.

"It was fast-tracked," he said. "If you look at the work products between what we didn't do and what the City Council did do, it's night and day."

Two council members who supported the deal in July are now being heavily pressured to change their vote.

A recent letter from two Eastside developers to community leaders criticizes Jane Hague and Kathy Lambert for not representing their Eastside constituents.  Skip Rowley and Bob Wallace said the two council members "ignored concerns from the people they are supposed to represent."

The letter goes on to state that the Sodo deal has "damaged" the chances of Bellevue getting an arena in the future.

"It's sad that they didn't come and talk to us directly about this and have another alternative for us to look at," said Lambert.

She argues that Bellevue never came forward with a plan. "There's no sponsor coming in with $500 million, and at this point we have one in Seattle," she said. "We go where the deal is."

Hague said she can handle the pushback.

"I'm no stranger to controversy, so it's all right," she said.  While Hague says she's undeterred by the letter, she's still not sure how she will vote.  "I'm leaning towards it but I don't want to make a commitment right now," she said.

Among the concerns expressed at the County Council meeting Tuesday were whether the environmental review will study more than just KeyArena as an alternative, and whether federal and state transportation dollars will go to Sodo instead of other long-standing needs.

"I don't want us to be saying all of the sudden we have an arena, let's bump those transportation projects to the top of the list," said supporter Julia Patterson. "That's what I'm worried about."

The County Council is expected to vote in the next few weeks.