King Co. Council orders study on oil train risks, preparation for possible accidents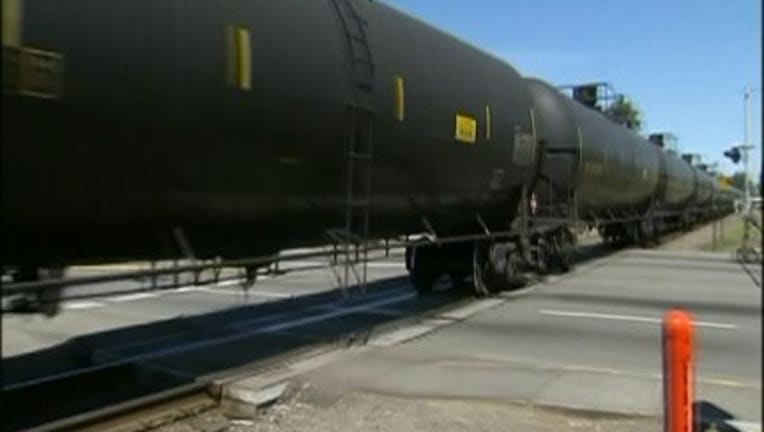 SEATTLE -- With the number of oil trains passing through the area rising, the pressure is on to find ways to mitigate the potential harm to the public.

On Monday, the King County Council unanimously passed legislation directing emergency officials to study the risks of transporting petroleum products by rail and to prepare for possible accidents.

In recent years the number of trains hauling Bakken oil has increased significantly.

Images of explosions of oil trains in Canada and elsewhere have local residents concerned.

"It would be our homes that would be destroyed, our businesses and people," Everett resident Allis Alexander said.

Alexander is a part of a Snohomish neighborhood watch group that counted 16 oil trains passing through in one week heading to the refineries in Whatcom and Skagit counties.

But some state lawmakers say the solution is not to stall the trains.

"We have to move past this debate, is oil good or bad? Many of these people want to shut down the oil industry; it's not going to happen," State Sen. Doug Ericksen, R-Ferndale, said.



As the debate heats up, the King County Council unanimously passed an emergency measure to get first-responders ready for a catastrophe.

"We want an integrative comprehensive plan so we are ready," County Councilman Rod Dembowski said.

By March 2015, local and state officials are required to have the proper equipment and training in case an oil train derails. Firefighters say Bakken is a dangerous new hazard.

"The sheer volume that's being transported to get the crude moving along the railroads increases the odds of an incident or accident," Seattle Fire Fighter Union President Kenny Stuart said.

Starting this month, railroad companies are required by federal regulations to disclose the number and volume of trains to first-responders. But the public is still kept in the dark.

"I have a right to know what is happening in my community," Alexander said.

Alexander wants railroad companies like BNSF to share more information but BNSF says too much disclosure poses a homeland security threat.

"We are regularly sharing that information, that information being what we haul, with people who need to know," BNSF spokesperson Gus Melonas said.

Alexander says the secrecy needs to stop so everyone is aware of the potential hazard.

"It would be devastating to Everett and any any place on the coast," Alexander said.

The Department of Ecology estimates that about 30 million barrels of Bakken passed through Washington in 2012 and 2013.

The Bakken formation is a rock unit from the Late Devonian to Early Mississippian age occupying about 200,000 square miles of the subsurface of the Williston Basin, underlying parts of Montana, North Dakota, Saskatchewan and Manitoba. The formation is entirely in the subsurface, and has no surface outcrop. It is named after Henry Bakken, a farmer in Tioga, N.D., who owned the land where the formation was initially discovered, during drilling for oil.

The application of hydraulic fracturing and horizontal drilling technologies have caused a boom in Bakken production since 2000. By the end of 2010, oil production rates had reached 458,000 barrels per day outstripping the pipeline capacity to ship oil out of the Bakken.