Kent police nab 24-time felon Jacob Widener
KENT, Wash. -- Kent police arrested 24-time felon Jacob Widener coming out of the Days Inn off of 348th and Pacific in Federal Way on Wednesday.

On Jan. 25, Kent police received a 911 call that Widener had assaulted his girlfriend and was driving a light blue Buick. Officers located the vehicle and Widener sped off. The pursuit was terminated due to the danger to the public. Prosecutors had issued a $425,000 warrant for his arrest.

Just as officers were moving in on him, Widener spotted them and took off on foot wherein a brief foot pursuit ensued and he fled in the nearby wooded area. Widener eventually stopped, but he started to put his hand down the front of his pants in a manner that suggested he was reaching for a weapon, police said. Officers told him to show his hands, and he was slow to respond and continued to make furtive movements. Finally, once he was surrounded, he surrendered and was taken into custody.

A firearm was located just several feet away from Widener.

"This is one of those cases where our officers used great restraint when deadly force would have been completely justified. This could have been a totally different outcome. I am very proud of the officer's professionalism," Kent Police Chief Ken Thomas said.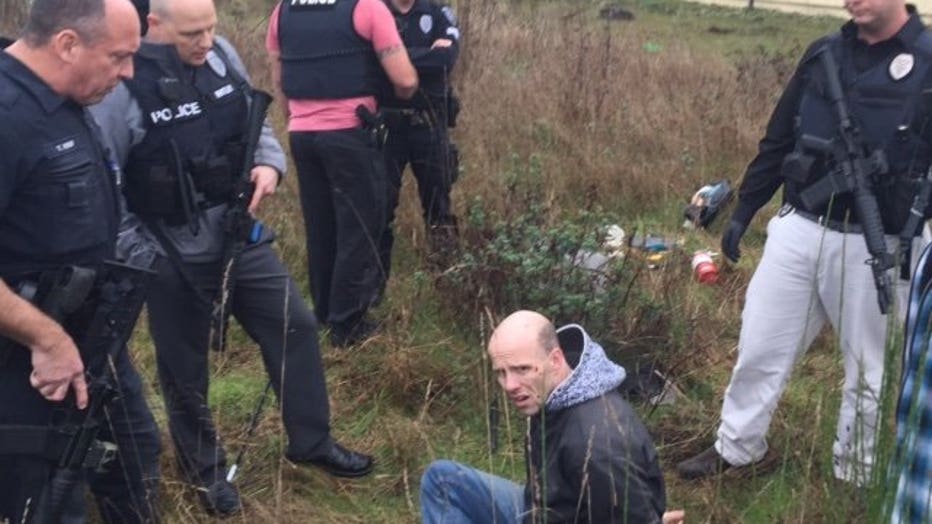 Detectives say a tip from a Washington's Most Wanted Facebook follower helped them locate Widener and Crime Stoppers of Puget Sound is planning to pay a cash reward on the case.

"Thanks to the tipsters and great police work, Widener is off the streets, and our community is safer because of it," said Detective Melanie Robinson.

Widener is Washington's Most Wanted Capture #955.

He had arrest warrants for Possession of a Stolen Firearm, Possession of a Stolen Vehicle, Eluding, Assault 3 and Hit and Run. Officers say Widener is a Member of the "No Remorse Crew" which is a group of career criminal drug addicts that feed their addiction by victimizing the public.

Widener was already under DOC community custody for a 2014 identity theft conviction. On April 7, 2017, he was charged with Assault in the Third Degree for ramming a police car, Attempting to Elude and Hit and Run of an Attended Vehicle. He was given Work Release on May 4, 2017.

He currently has a criminal history: 24 felony convictions, dating back to 1997: Bail Jumping (2x 2014); VUCSA (3x 2014, 2009, 2001); Identity Theft (2014); Attempting to Elude (2x 2014, 2009, 2006, 2004, 2003, 2002); Possession of Stolen Vehicle (2009); UPFA (2006); Theft 1 (2006); Robbery in the Second Degree (1999); Escape 1 (1997); Residential Burglary (1996); Harassment (1997); and Malicious Mischief 2 (1997).