Kent council candidate pens blunt personal statement, says 'I'm not really sure I want this job'
KENT, Wash. -- Kent City Council candidate Russell L. Hanscom has a lot to say about the position he's running for.

The pay is crummy, Hanscom says. It takes away from family. And it's pretty thankless.

"Frankly, I'm not really sure I want this job," Hanscom says.

Hanscom wrote all this and more in his candidate statement included in the King County Voter Guide given to all voters in King County.  Here's the full statement: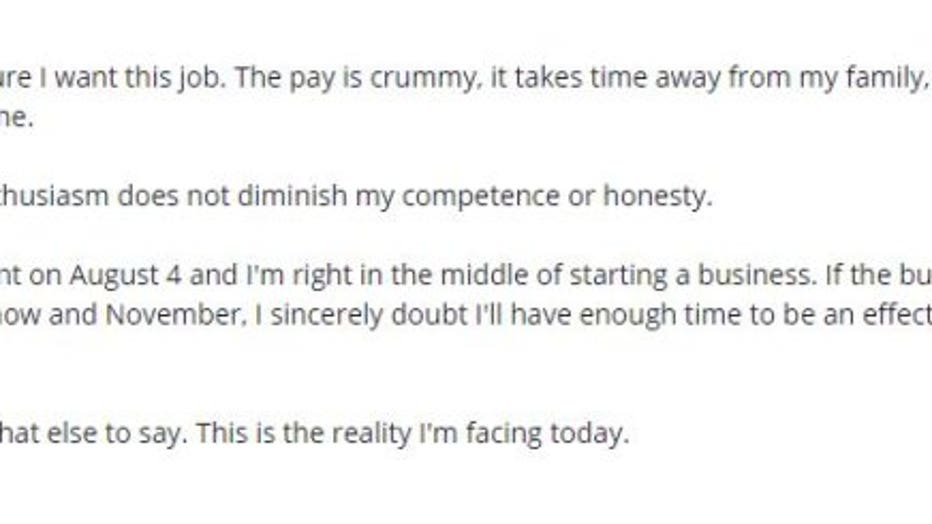 Hanscom stood by his statement Friday.

"It speaks for itself," Hanscom said. "It was a bad day."

Hanscom says he signed up for the race in April, but a business opportunity came shortly after.  He couldn't drop out of the race because the time period for removing his name from the ballot had passed. He said rather than not write a statement, he would tell the truth.

"My life is so day-by-day right now," he said. "I've always tried to stay authentic. I had no time to devote."

Hanscom insists he was not trying to make a mockery of the democratic process. He originally signed up because the other candidate, Brenda Fincher, was running unopposed.

"I can't stand races where people run unopposed," he said.

Hanscom won't say for certain if he will resign if elected. He also says Fincher is a good candidate. Still, he think's he'd do a better job if he could put his all into the job. But he just can't commit the time if elected. He says there are plenty of problems in Kent that need to be fixed, such as the ShoWare Center allegedly losing money and public money allegedly going to fund a golf course.

Along with a bit of media attention, Hanscom says the voter's pamphlet statement had another unintended consequence: It upset his wife.

"It wasn't real good for my marriage for the first month," he said. "She thought people would misperceive it as flippant or making fun. But I was just being honest."