Keeping your holidays safe from thieves and other bad guys
MUKILTEO, Wash. -- It's Thanksgiving time and Thursday that means food, family, and football. It also means the frenzy that is Black Friday. A number of stores open Thanksgiving night for shoppers with many working hard to lure you into their stores to buy your holiday gifts.

It's also a time to think about safety, so before you head out, whether it's late Thursday or early Friday, we have some tips, thanks to the Mukilteo Police Department.

They want to remind people to pay attention to your surroundings. This is advice not just for the holidays, but anytime.

Another suggestion is to shop in pairs or a group.

Make sure to protect your identity this season. Police say that you keep a closer than usual eye on bank statements and account activities. If you see discrepancies, call your bank as soon as possible.

You'll also want to protect your vehicle.

When you leave to head into the mall, you can protect your home by checking to see if your doors are locked and making sure any packages, gifts, purses, or wallets are out of sight of anyone scouting your car.

Your home can also be a target for bad guys.

With you and the whole family out of the house shopping, Mukilteo Police suggest it's a good time to make sure all your windows and doors have secondary locks, like window pins or deadbolts.

Similarly to what you do with your car, it's best to keep presents and other packages out of the sight of prying eyes.

And if you're away for the holidays, consider having a trusted neighbor or friend watch your house while you're away.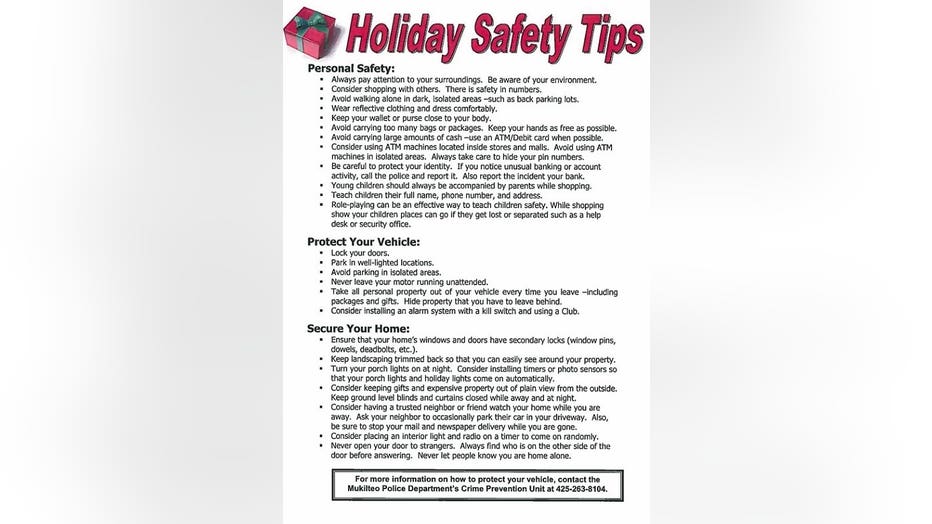 Check out Mukilteo Police Department's complete list of the Do's and Don'ts to have a safe holiday season.