Kayakers find remnants of possible Japanese house in Washington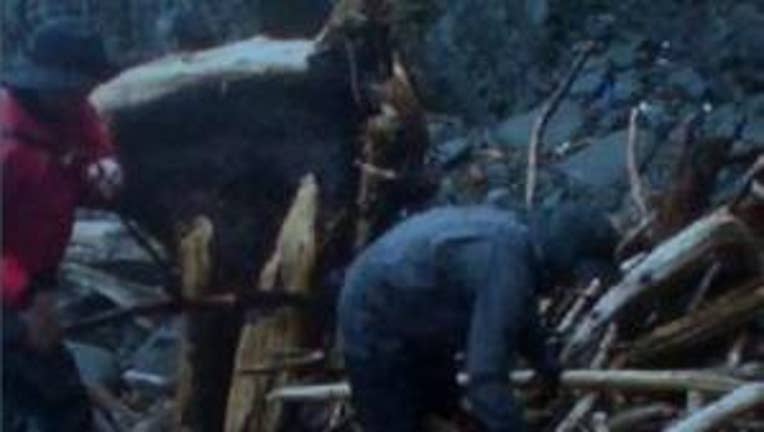 NEAH BAY, Wash. -- Three professional sea kayakers surveying Washington's coast for tsunami debris found what they believe to be remnants of a Japanese house on a beach in northwest Washington, along with hazardous materials, the kayak group known as the Ikkatsu Project said.

In a report filed on the group's website, they reported they found on June 12 a portion of a house, or at least its bathroom, which they said was partially intact when it first arrived but has broken up on Hobuck Beach in the Makah Reservation because of wave action.



"We found a large quantity of milled lumber, cut to metric dimensions, which was marked with a Japanese stamp and serial number – 5501128. (Preliminary research has suggested that the source of the lumber was originally the Daiwa Pallet Housou Company of Osaka)," the report said.

"The reason we think this was part of a residential bathroom is that we found items consistent with this hypothesis: cough syrup, iodine, a portion of a child's potty seat, etc. The individual pieces of lumber were in relatively good condition, suggesting that the house, or portion thereof, washed ashore in one piece and then was shattered on the rocks.

"We also came across pieces of a washing machine (the front panel and the rusted hulk of the electric motor), and a red kerosene container which were located near the pile," the report said.

"It was a sobering experience, poking through the remains of what had obviously been someone's home, deposited roughly and without ceremony here on a cold and rainy beach, 6000 miles away from where it once stood," the report said.

Nearly all of the beaches surveyed had some form of hazardous material, some readily identifiable, like kerosene, others unknown, the group said. Samples were taken for scientific observation.

"The multitude of similar containers that is expected to hit the shore over the next few years may well constitute the biggest environmental concern of all. We found hazardous items of one kind or another on every beach we surveyed except one."

Members of the group were listed as Ken Campbell, Steve Weileman and Jason Goldstein. For the group's report, click here.