Justin Bieber charged with DUI after street-racing incident
By Linda Trischitta
Sun Sentinel
MIAMI -- Singer Justin Bieber was arrested in Miami Beach before dawn Thursday after a street-racing incident and he subsequently failed a field sobriety test, police said.
Bieber, 19, was charged with driving under the influence, resisting arrest without violence and having an expired driver's license from the state of Georgia, Miami Beach police detective Vivian Hernanez said.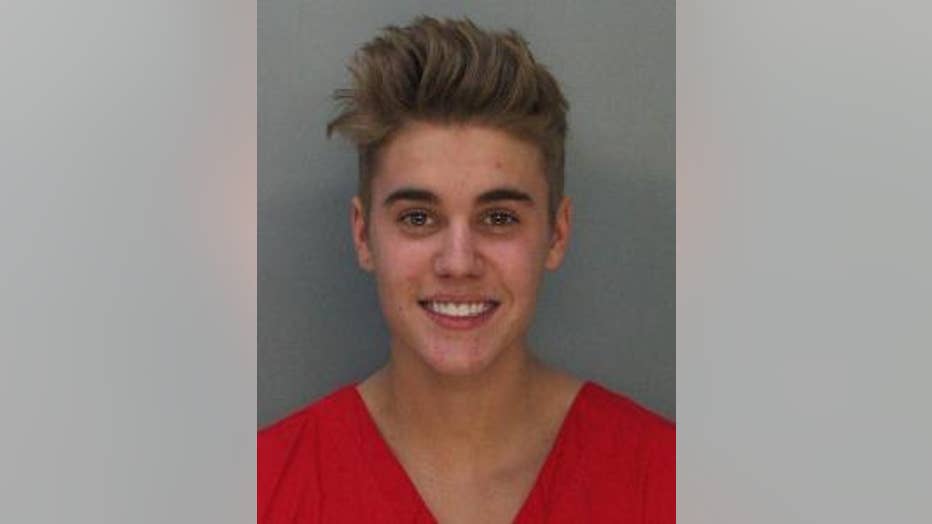 Justin Bieber's mugshot from his arrest in Miami Beach Thursday.
What the f*** did I do? Why did you stop me?" Bieber asked the police officer who pulled him over just after 4 a.m., according to the arrest report.
Bieber made a brief appearance through a video link before a Miami judge, who set a "standard" $2,500 bond for his release Thursday afternoon. He quickly posted it and was released.
Bieber and a friend, Khalil Amir Sharieff, were stopped by police at 4:10 a.m. near Pine Tree Drive on Miami Beach.
Bieber was driving a yellow Lamborghini and Sharieff was in a red Ferrari, both rental cars, Hernandez said.
Sharieff was charged with DUI, police said.
Before police stopped them, the drivers were being followed by two SUVs that were part of Bieber's entourage along Pine Tree Drive. The trucks were traveling slowly to block traffic so that the low-slung, sexy and fast cars could race, police said.
Pine Tree Drive is about three miles long and is lined with luxury homes in places. It has gentle curves and its lanes run north and south along the east side of Miami Beach, and is separated by a tree-lined median.
The speed there is 30 mph, Miami Beach Police Chief Ray Martinez said.
A police officer was traveling south on Pine Tree Drive when he passed two cars street racing at an estimated 55 mph to 60 mph on the northbound side, Martinez said. The officer stopped the Ferrari and a second officer stopped the Lamborghini near 41st  Street.
"When he confronted Mr. Bieber, he smelled a strong aroma of alcohol beverage," Martinez said.
The police chief said that when Bieber was first approached by police, "he was a little belligerent, using some choice words, questioning why he was being stopped and why the officer was even questioning him.  Once he was here at the station, he was very cooperative. We did not have any issues with him."
The men were taken to Miami Beach Police headquarters.
"During the investigation, Mr. Bieber made statements that he had consumed some alcohol, had been smoking marijuana and consumed some prescription medication," Martinez said.
Martinez later said Bieber told police he'd had a beer.
At about 9:45 a.m. Thursday, Bieber and Sharieff were taken to Turner Guilford Knight Correctional Facility that is just northwest of Miami International Airport. They will be held a minimum of eight hours from the time of their arrests, police said.