Justice for Mickey: $7,500 reward offered for toy poodle's killer
EDMONDS, Wash. -- The owner of a toy poodle found stabbed to death and partially skinned in his own fenced in backyard on Friday, Aug. 25th feels time is running out to find the killer.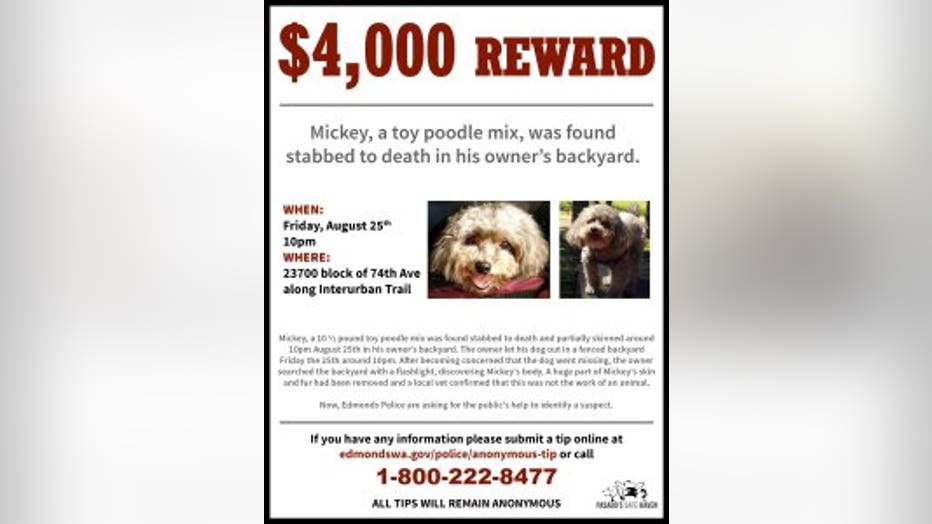 Paul Hensel has been out posting fliers along the Interurban Trail behind his home in the 23700 block of 74th Avenue offering a $7,500 reward for tips to identify the suspect who mutilated and killed Mickey.

Editor's note: The reward has been raised since the original posting of this article from $4,000 o $7,500.

"The way he went, it was so violent and he had to have been scared," said Hensel.




Hensel said he was sitting inside just 20 yards away with the door cracked open.

"We didn't hear anything. We think he was waiting in the yard," Hensel said of the attacker.

Mickey was a little 10 1/2-pound dog that loved everyone he met. Hensel says he liked to bark at imaginary animals.

"We've had neighbors come up in tears when they found out about it," said Hensel.

Edmonds Police initially increased patrols in the area but believe Mickey's killing is an isolated incident. Still, they are warning people to keep a close eye on their pets and asking for leads on any suspicious people on the Interurban Trail.

"If anybody knows someone who may have a tendency to hurt animals or so forth, that's something we would like to know about. That's something that would be helpful information and point us in the right direction," said Sgt. Shane Hawley.

So, how could somebody be so cruel?

Pasado's Safe Haven is funding a third of the reward because they know this behavior will escalate and get worse.

"As this behavior escalates, people who have crossed this moral line of being able to harm another living being, in our experience in hundreds of these case it always gets worse.  As they progress up from one crime to the next, they are always looking for something more gruesome, more hurtful and to cause more suffering," said Executive Director Laura Henderson.

If you have any information that can help solve this case or identify a suspect, call 911 or Edmonds Police at
(425) 771-0200.

You can also submit an anonymous tip at http://www.edmondswa.gov/police/anonymous-tip.html. or call Crime Stoppers at 1-800-222-TIPS (8477).