Jury of your peers? Not if you're a minority in Washington, study shows


OLYMPIA -- In Washington and across the country, a jury of your peers isn't easy to find if you're a racial minority.

The results of a year-long survey exploring the racial and ethnic makeup of Washington juries were released Wednesday. The survey showed racial and ethnic minorities were under-represented in juries in most court jurisdictions, with limited exceptions.

"Eventually I started going, 'Gosh, there's not a lot of diversity out there,'" Judge Steven Rosen said at the Washington State Supreme Court Minority and Justice Commission Symposium. "How did this happen?"

According to the survey conducted by Seattle University's Criminal Justice Department, minorities are underrepresented by 13 percent on average in all of Washington's courts.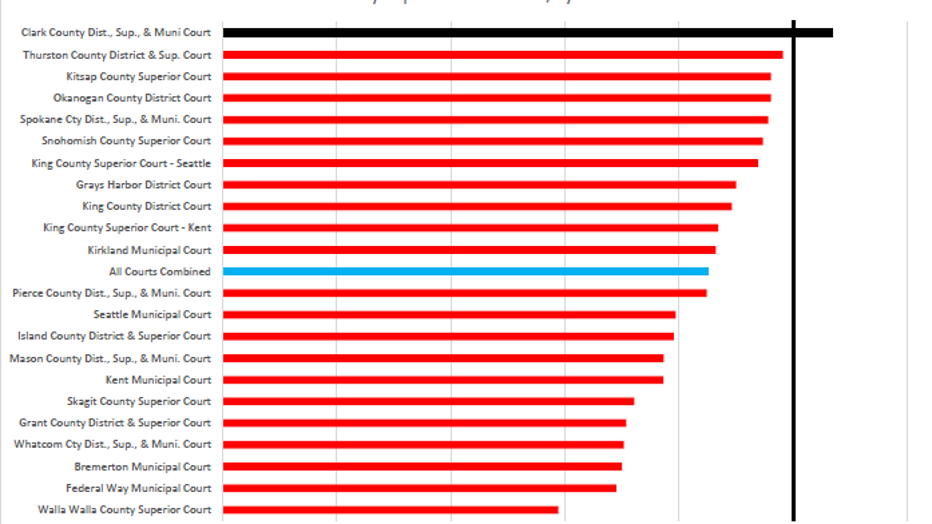 The survey broke down minority participation in jury by race. Asians were represented on a jury less than half as often as they would be if the ethnic make-up of juries accurately reflected Washington's population.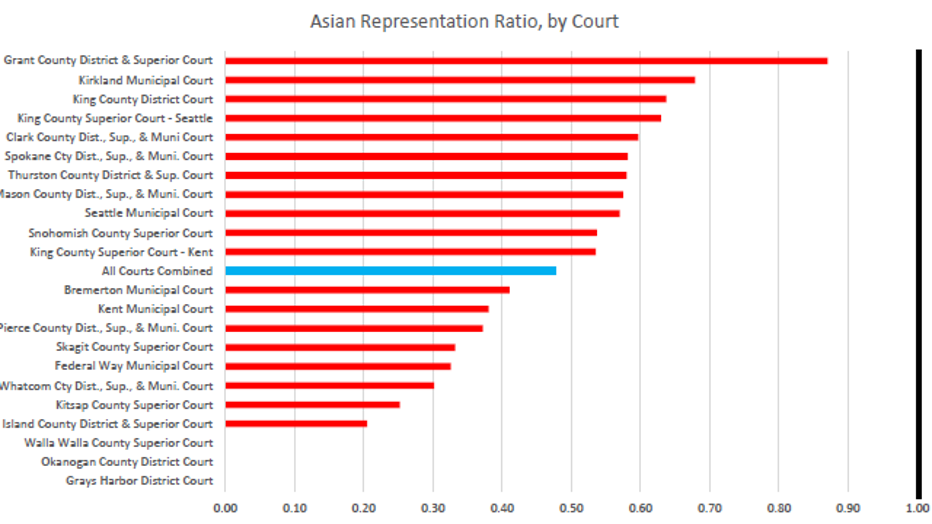 African American representation was only slightly better.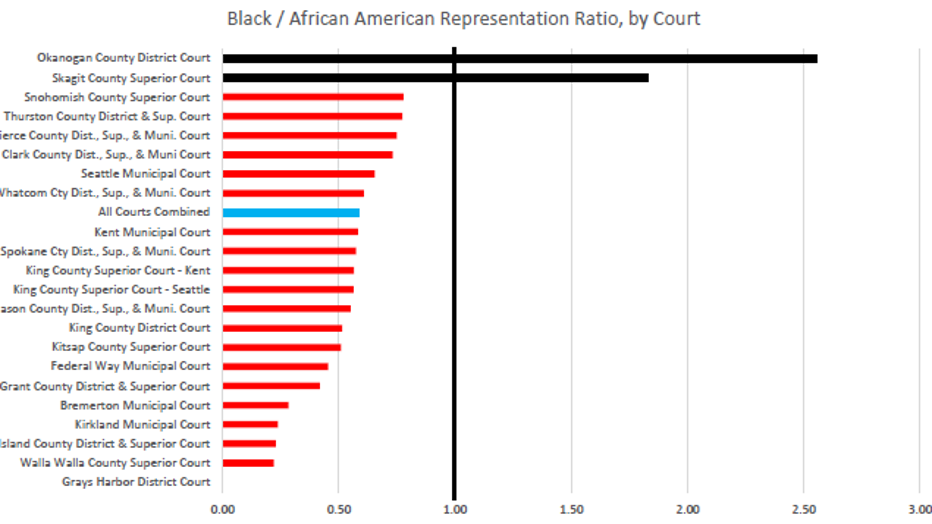 Hispanic jurors were represented about 80 percent as often as they should be if jury selection mirrored population.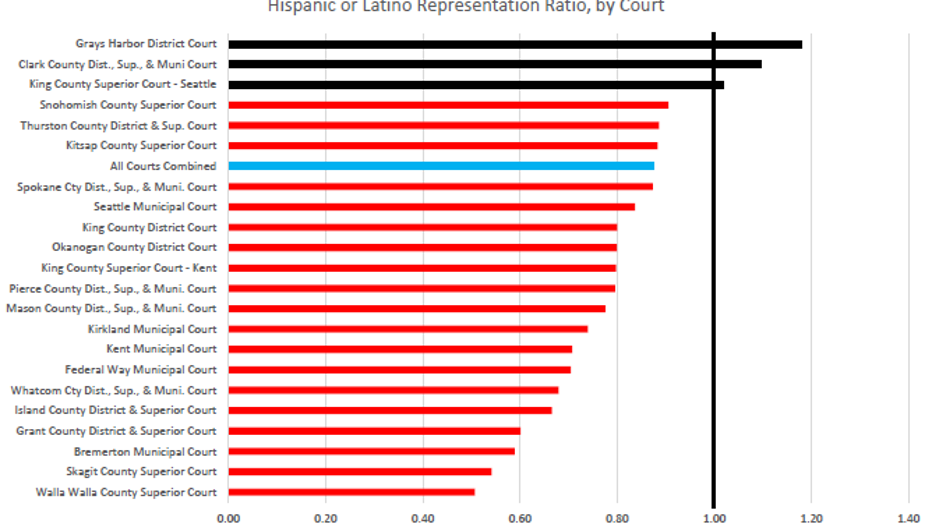 In contrast, white jurors are over-represented in comparison to Washington's white population.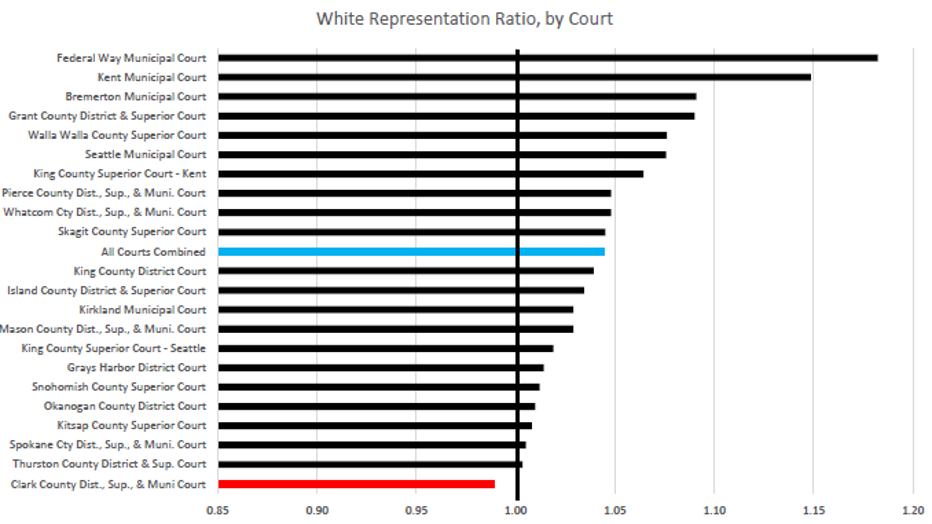 Washington's minorities are more than represented in the state's prisons, however. According to a 2013 City of Seattle study, 3.3 percent of the state's population is black, but African Americans make-up 14.9 percent of the prison and jail population.

Washington is not alone in under-representing minorities when it comes to jury selection. Juries across the country have a hard time accurately reflecting their area's population, the American Bar Association said in a recent report. 

"Courts are striving to effectively and randomly select jury pools with a composition that reflects the racially diverse populations they serve," the report states. "Criminal defense attorneys are often presented with a jury that features a majority of white, upper-middle class individuals who are then responsible for judging the guilt or innocence of a defendant who does not share their same characteristics or background."

Washington State Supreme Court Justice Mary Yu said one of her main takeaways from the study, which was released Wednesday, was the need to expand the jury source list.

Jurors are sourced from a list of all registered voters by county, combined with a list of licensed drivers and I.D. card holders. Yu wondered if it's time to move to a broader source list - like an address list or a Verizon phone number sheet - to get a more representative portion of the population.

"We could do a lot better on who comes or who shows up by expanding our jury source list," Yu said. "People are very transient, and we're missing a lot of our population."

A change in state law would be necessary to change the jury source list.

Nina Chernoff, a professor of law at the City University of New York, said it's important that Washington strive to have its juries accurately reflect its population.

"Not only are representative juries historically important, they are just as important today to the perception of the fairness of the justice system," Chernoff said, noting more than two-thirds of U.S. residents believe juries are the most important part of our justice system.