Japan's main airlines ground Dreamliners after emergency landing, SeaTac flights rescheduled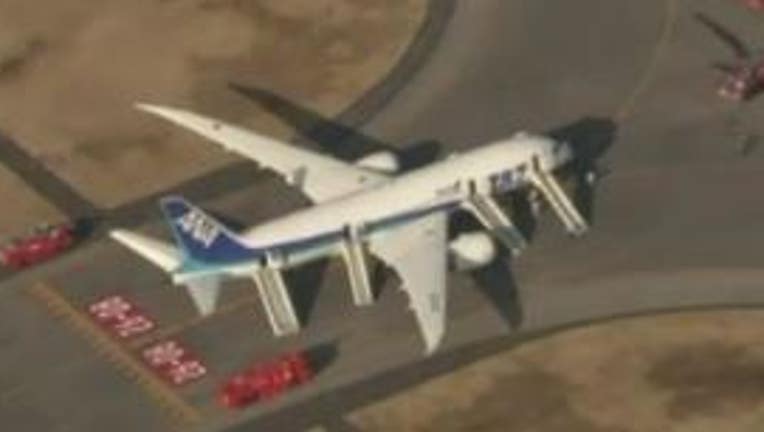 article


SEATTLE -- A Boeing 787 Dreamliner made an emergency landing in Japan early Wednesday morning after an alarm signal on a battery activated, a spokesman for All Nippon Airways in Tokyo said. ANA immediately grounded its fleet of 17 Boeing 787s, and Japan Airlines grounded its seven 787s until further notice.

No ANA flights left SeaTac Airport Wednesday, ANA representatives said. Passengers scheduled to go on a flight were transferred to other carriers. Flights were scheduled to resume Thursday, but the airline would use Boeing 777's instead of the 787.

The ANA flight, which was scheduled to leave Yamaguchi Ube Airport at 8 a.m. Wednesday (6 p.m. ET Tuesday) and to arrive at Haneda Tokyo International Airport at 9:25 a.m., made an unscheduled landing in Takamatsu airport, Takuya Taniguchi said.



In recent weeks, Dreamliners have suffered issues including fuel leaks, a cracked cockpit window, brake problems and an electrical fire. As a result, Japanese and U.S. authorities have launched investigations into the aircraft.

Japan's Ministry of Transport said smoke was seen in the cockpit, but not in the passenger compartment. The source of the smoke is not known. A strange smell was also confirmed. All 137 passengers and crew were safely evacuated, using emergency chutes.

Boeing spokeswoman Lori Gunter said the company is "aware of the event and working with the customer."

The emergency landing occurred as the National Transportation Safety Board in the United States continues its investigation of a battery fire last week. Fifty Dreamliners are in service worldwide, and 800 more are on order.

The Boeing Company released a brief statement on Twitter Tuesday evening.

"We're aware of the ANA 787 diversion in Japan. We will be working with ANA and the authorities to determine what happened and why."

It is just the latest in a string of incidents over the past 10 days.

On Jan. 7,  a fire broke out on an empty Japan Airlines 787 on the ground in Boston. The fire was traced to batteries used to provide electricity while the plane is on the ground. The batteries were removed and are being inspected by the FAA.

Then a Japan Airlines 787 flight was canceled in Boston after a fuel leak was discovered as the plane was preparing for departure. The plane was towed back to the gate after losing about 40 gallons of jet fuel.

"This has happened with other type of aircraft; it's not a common thing but it has happened before. It's not just specific to a 787," Logan International Airport Director of Aviation Edward Freni said.

On Jan. 9, another ANA  flight in Japan was canceled after the crew discovered an error message related to braking system.

Boeing released a statement saying:

"While the 787's reliability is on par with the best in class, we have experienced in-service issues in recent months and we are never satisfied while there is room for improvement."

Seattle aviation expert Scott Hamilton said the NTSB will have to take a comprehensive look at all of the recent problems.

"These are all electrical issues, but it appears to me these are different electrical issues. Having said that, the NTSB will probably take a look at all these electrical issues and try to determine if there's some sort of a pattern or systemic nexus," Hamilton said.

Boeing has a lot at stake here. The 787 is widely seen as the future of the Boeing Co.

Boeing currently has orders for 800 Dreamliners, at a cost of about $200 million apiece.