Japanese writing found in dock beached on Washington coast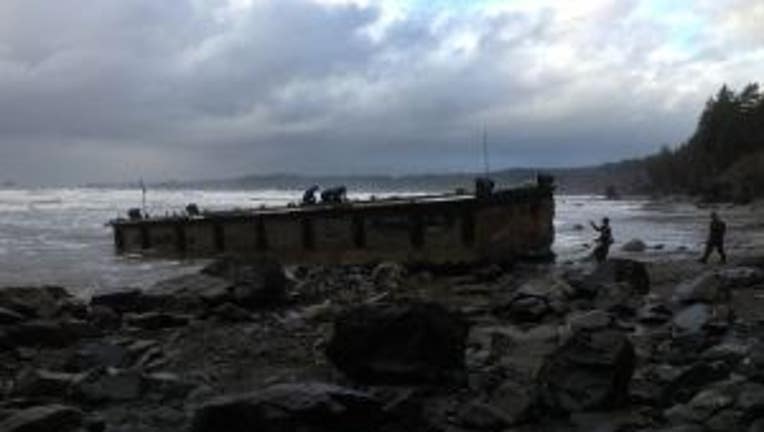 FORKS -- A tsunami debris team on Friday safely reached and inspected a beached dock in Olympic National Park that is suspected to have been set adrift by the March 2011 Japanese tsunami.

"The team was able to thoroughly inspect five surfaces of the dock and took live samples of potentially invasive species for laboratory analysis. More about the species sampled and whether they pose a risk to the sensitive ecosystem should be known over the weekend," said the Washington State Marine Debris Task Force.

The team was led by National Park Service staff, including the Washington Department of Fish and Wildlife and Oregon State University.

"They also looked for – but did not find – an identifying plaque like the one found on the Misawa dock that washed ashore on Agate Beach (Ore.). However, the team located some Japanese writing in one of the holds, and photos are being shared with the Japanese Consulate to officially confirm this dock as tsunami debris," the task force's news release said.

"A tracking beacon is now attached to the dock to track its position. Photos taken today will be used to help develop a plan to remove the dock from the beach. No timeframe has been set for removal, however.

"Crews also took samples to test for any radioactivity, which is considered highly unlikely by state Department of Health experts," the release said.

Pending further information about the risks associated with the dock, the section of the park between Goodman Creek and Jefferson Cove is closed to all public entry.

The dock is aground on a remote stretch of beach between LaPush and the mouth of the Hoh River, which must be accessed by foot via primitive trails across rough terrain

The dock was spotted by a U.S. Coast Guard helicopter Tuesday.

The dock appears to be similar to a Japanese dock that washed ashore in June in Oregon. That dock was cut up and removed.