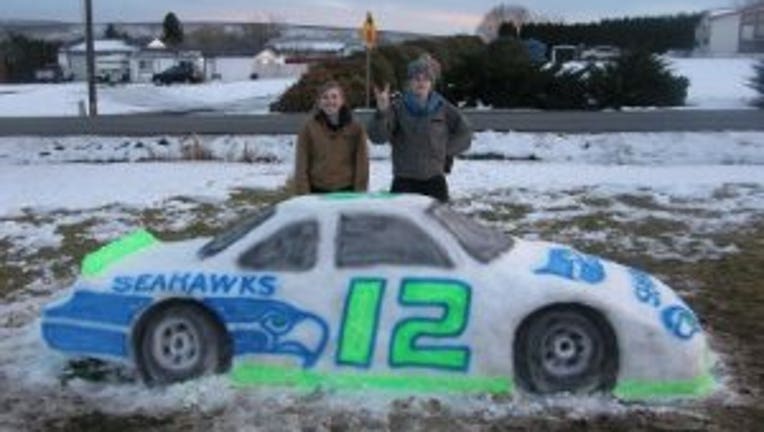 It might be Blue Friday to support the Seahawks, but if you weren't dressed for this cold snap it was a brrrr Friday.

We had a very icy start this morning around Seattle and we could see these kind of slick driving conditions the next few mornings as well. The DOT crews usually do a great job getting the major arterials and the Interstates with their de-icer spray -- you have to watch out for those residential streets and maybe even your own driveway the next few mornings. Be especially careful in foggy areas. That fog can settle on the road surfaces and cause some slick driving. Due to the nature of bridges and overpasses having both sides exposed to cold air, they're the first spots that see icy spots.

The good news is that while the January freeze for the Pacific Northwest looks to continue for the weekend, the benefit is sunny afternoons. We do have some cold mornings ahead with temps below freezing each morning getting into next week, but nearly every day we have some nice winter sunshine and you'll be able to see the mountains. Highs will struggle to get to the 40s on the I-5 corridor -- a normal high temp for this time of year for Seattle is 47 degrees -- and every single day in our seven day forecast looks to have afternoon temps below the norm.

With tons of fresh snow in the mountains we've got great skiing and boarding this weekend at all the resorts. Sunday looks perfect for the game in Atlanta, mostly because it's inside, while outside in Atlanta temps will be in the low 70s. Our game day forecast in Seattle is a perfect one to stay inside and watch Q13 FOX to root on the 'Hawks since temps will be in the 20s and 30s across Western Washington on Sunday morning.

We look to stay dry into most of next week with a few possible coastal showers on Monday and perhaps late on Thursday -- some might sneak into inland areas. Enjoy that January sunshine.

!