'It's the giving part of Thanksgiving': Delivering holiday cheer to hundreds of seniors is no small task


EVERETT, Wash. -- Hundreds of seniors in Snohomish County are enjoying turkey dinners at home. It's all thanks to the work of hundreds of volunteers that make it happen not just on Thanksgiving, but 12 months a year.

"Happy Thanksgiving!" says volunteer Jane Slager with many bags in hand. "You remember me?"

Jane is a volunteer with Homage Senior Services. She asked for this family to be on her route of meal drop-offs. She used to bring them Meals On Wheels regularly before she had to cut back her volunteer hours a few years ago.

"This is for you and Gabriel," she says as she hands over the several bags and an extra present for her very grateful former clients.

"Oh thank you!"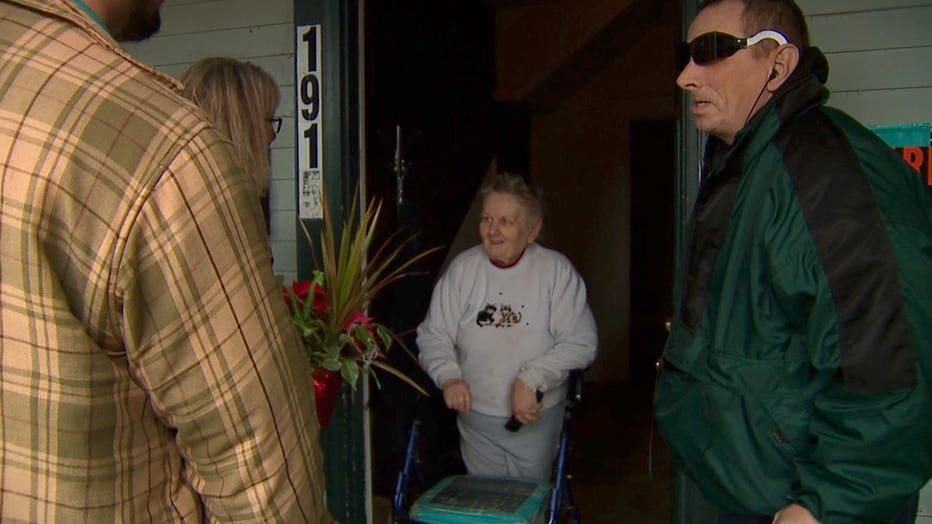 Jane Slager delivers hot holiday meals for Homage Senior Services.


With her husband behind the wheel, along with her son and daughter-in-law-- they're four of several hundred volunteers helping bring Thanksgiving cheer and food.

"I used to work in the kitchen," says Jane, "but I like delivering better."

Back at the Carl Gibson Senior Center in Downtown Everett, the non-profit Homage Senior Services has an excited swarm of volunteers using their commercial grade kitchen. They're making and packing these hot turkey dinners-- plus some leftovers for Friday.

"I like to call it the giving part of Thanksgiving," says Steve McGraw. He runs Homage Senior Services. Over the course of a year, they'll help more than 24-thousand Snohomish County seniors through the work of their small staff and roughly 500 volunteers. The cost is about $5,000 for all of these Thanksgiving meals, and it's covered by a single generous anonymous donor.

"The work we do is the community's work," says McGraw. "We're kind of the agent and the vehicle for the community to help our neighbors. So, we have the hands and feet-- what we also need are the resources."

McGraw says there's 145,000 people living in Snohomish County that are 60 years and older. He says the time the 2030 census rolls around-- just 11 years away-- that number is expected to reach 300,000 seniors. He says that's why resources like volunteers and donors will be even more important in the years ahead.

"It really is about partnership," says McGraw, "and making sure the most vulnerable of our community get help and support."

In the meantime, these volunteers are scrambling to get through this year's busy season. Volunteers on this day of thanks come from businesses like Mt. Pacific Bank, Coastal Bank, Snohomish County Soroptimists, City of Everett Courts, Office Interiors, Leadership Snohomish County, American Pacific Mortgage, the U.S. Navy, Everett Clinic and of course one of the biggest employers in the region-- Boeing.

These hundreds of volunteers are scrambling to get through this year's busy season starting with these 300 outbound hot meals, to give thanks to those who gave before us.

It's just part of what Homage does all year long, says McGraw.  "We're honoring our older adults and helping them live well at home."

Click here for more information on Homage.