'It's really getting crazy around here,' south Seattle man says of shootings
"It's really getting crazy around here, I want something to happen," says Omar Jackson, about the recent spike in crime in south Seattle. His cousin Dejean died in one of the shootings. (Photo: KCPQ-TV)


SEATTLE -- There have been at least 10 shootings in south Seattle in the past two weeks.

Community groups asked the Seattle Police Department to meet with them Tuesday night to talk about what can be done to stop the violence.

One of the concerns is that the leadership in the South Precinct has been a revolving door. Community members say no police captains are around long enough to care or make a difference.

"It's really getting crazy around here, I want something to happen," says Omar Jackson, about the recent spike in crime in south Seattle. His cousin DeSzaun died in one of the shootings.

"As far as we know, it was just a fight gone wrong," Jackson said. "Some kids were retaliating from a fight, and we think he was defending himself.



The killer has not been caught. That's why Jackson and dozens of other families showed up for a meeting with the Seattle Police Department. They wanted to hear what's being done to make their neighborhood safer.

"I definitely want to see some change, it's too much," says Jackson. "I feel a little neglected."

The new acting captain for the South Precinct says he's already made some changes to stop the violence.

"We've got officers out on bikes, we've adjusted the hours of some of our officers," says acting Capt. Steve Strand. "We're putting more people in uniforms and visibility in the areas we're seeing concerns."

But Pat Murikawa, of the South Crime Prevention Council, says what's really needed is stronger leadership. Strand is the seventh captain in the past five years, and he's only in the position temporarily.

"We need a steady captain that's going to stay -- one that can work well with the officers in precinct and isn't going to be leaving in 30 days or a year," she says.

Strand says he can't speak about personnel issues, or about the leaders who came before him.  But Tuesday night, he promised to build relationships in the community.

"The captains do come and go and that's not uncommon throughout the police department. But the officers that are responding to calls and know the neighbors stay in place, and they're the ones that really make a difference for the community."

Police say community can help them, by reporting what they see in their neighborhoods. They say that's the only way they can solve crimes and prevent more retaliation.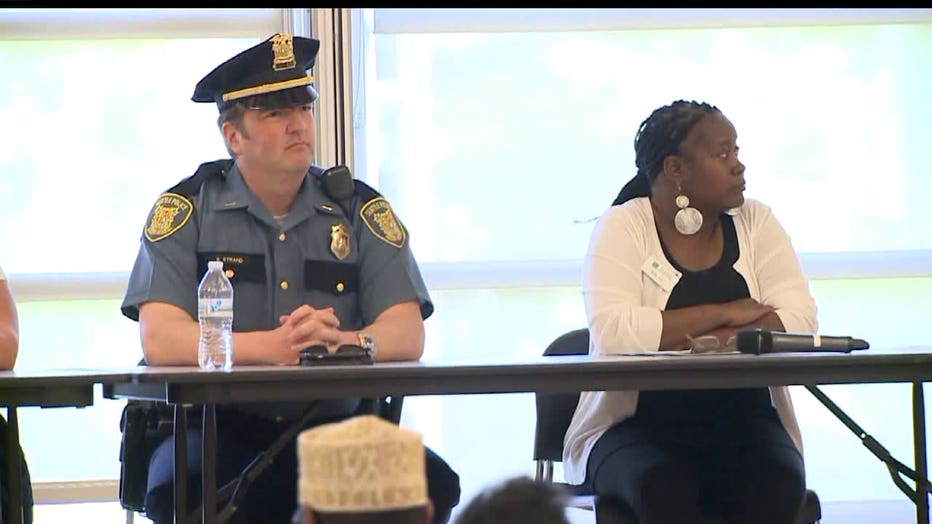 The new acting captain for the South Precinct says he's already made some changes to stop the violence. "We've got officers out on bikes, we've adjusted the hours of some of our officers," says acting Capt. Steve Strand, shown at left. (Photo: KCPQ-T