It's a special Thanksgiving for families of 200 soldiers back from war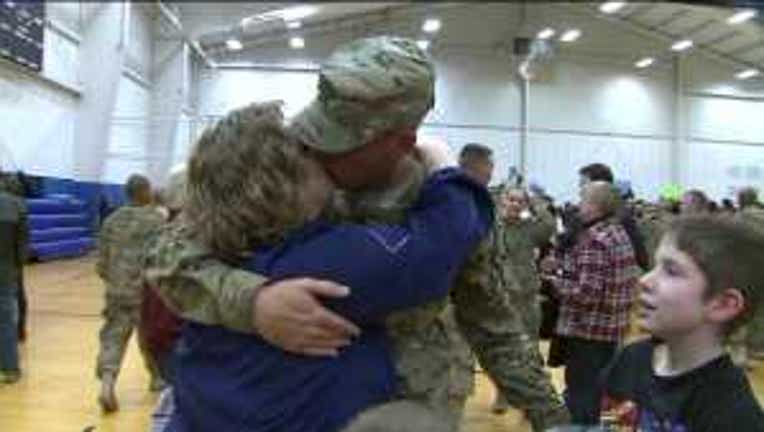 JOINT BASE LEWIS-MCCHORD -- At a time of giving thanks, no one is more thankful than the families of 200 JBLM soldiers who returned Wednesday from nearly a year in Afghanistan.

As the plane touched down, the cheers went up Wednesday. This Thanksgiving will be a very special holiday for the families who haven't seen their loved ones in a year.

"There's not a thing on this Earth that we could be more thankful for. To have him home, home safe but also home on Thanksgiving is just so perfect," said Bobbie Riley, wife of returning Capt. Ian Riley.

"I think we're all going to, like, tackle him when he comes back," said daughter Chelsea Riley.



When the soldiers of the 3rd Stryker Brigade finally arrived, Riley's kids did jump into his arms.

"I'm so happy to be home," Riley said. "The timing couldn't be any more perfect."

On this holiday, the families of the soldiers have plenty for which to be thankful. The brigade was in difficult combat situations in Afghanistan, and those who came home early were badly injured.

Spec. Josh Wetzel lost both of his legs to an improvised explosive device. He's been through a lot, but said he couldn't wait for this reunion.

"It means everything to me," Wetzel said. "It's hard sitting in a hospital, with them over there and you've been working with them for so long, just worrying about them every single day, not really knowing what's going on. It's just amazing having them home."

Among the reunions, there are also those who are meeting for the first time. Eight-month-old Kenzley Grumble was born prematurely, five days after her dad was deployed.

"It was really hard," said Jessica Grumble, holding Kenzley in her arms. "More than anything I just wanted him there."

And now, he is finally back.

Nellie Tamayo's son, Ghero, was also born while her husband, Sgt. Gerardo Tamayo, was deployed.

The 6-month-old cried when his dad first held him, but it didn't dampen his dad's spirits.

"It's awesome," the proud father said.