'It was terrifying ... the scariest thing I've ever witnessed," mom says of mudslide hitting house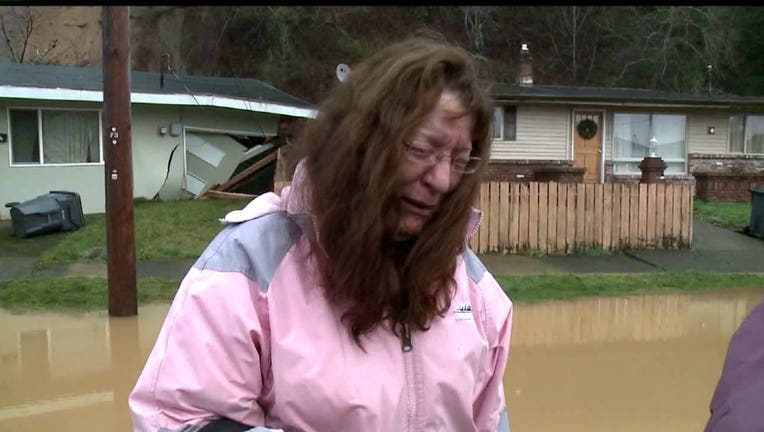 article


HOQUIAM, Wash. -- Grays Harbor County commissioners on Tuesday declared a state of emergency from torrential rains, floods and massive mudslides that took out several houses.

No one has been injured so far.

Some homeowners were returning home Tuesday to find everything they own swept away by the mud and floods. Two parts of one cliff came roaring down into homes in Hoquiam after torrential rains weakened the land.

A geologist spent the day examining the hillsides, trying to determine if they still pose a risk.

Meanwhile, the victims of the landslides have started tallying the damage.

"That whole roof is our carport," Wendy Howell said of the damaged home. "It was connected to the laundry room."




Howell and her family were inside when the hill behind their house came crashing down. Mud and debris shredded the backside of their house; their keepsakes tossed across the front lawn.

At least six inches of mud now fills what's left of her laundry room.

"It was terrifying. It was the scariest thing I've ever witnessed," she said. "It was like an earthquake times 100. And the noise ... I thought the whole house was gone."

Cynthia Schmide's home was destroyed by the mudslide. The slide knocked her home off of its foundation. All she's been able to salvage is a backpack and her son's guitar.

"I don't even have makeup," cried Cynthia. "I don't know what to do. I'm just ... right now it's not real."

About 200 people above Queets Avenue are now stranded as the main road is blocked. And a grueling, three-mile detour through narrow logging roads is the only bypass. Police escorted cars back and forth.

Two homes on Beacon Hill have been condemned by the city because the mudslide undercut their foundations.

Some people who live above and below the slide wonder if rebuilding is even a good idea.

"I don't trust that hill anymore," Cynthia said. "It came down; it'll come down again."

The main road up to Beacon Hill might not reopen until the weekend.

"Concern now is the future stability of this area," Hoquiam Police Chief Jeff Myers said.