'It breaks my heart': Mother of three girls facing deportation, breakup of family


MARYSVILLE, Wash. -- A local mother of three girls is days away from being deported after she came to the United States illegally 12 years ago.

She's a single mother and her daughters are now scrambling to find a way to keep the family together.

"It's just so difficult for us, as you can see," said Sherly Alvarado-Pineda, the 14-year-old daughter of Bernarda Pineda as her younger sister Stacy welled up with tears.

Tears of 9-year-old Stacey Alvarado-Pineda show the pain her family is going through as they prepare to be split apart.

"She's going to have to leave in a week," Sherly said.

A plane ticket to Honduras on March 19 sits in front of them.

"I don't want my mom to go over there, I don't think it's right. The poverty, I don't think she deserves it, she's been here for a long time," said Sherly.

Her mother, Bernarda Pineda, said a better life for her daughter Sherly and the unstable political climate in Honduras was the reason she came to the U.S illegally in 2006. Since arriving she had two more children who were born in the U.S and are American citizens.

"My mom and us all have a bond," said Sherly.

Since 2006, Bernarda has obtained a work visa, holds a job, has a driver's license, a Social Security number and keeps a record of check-ins with immigration officers who OK her stay every few months.

"I'm scared and worried because I don't want to leave my kids here," said Bernarda.

She says she's very religious and her faith is what's getting her through this tough time.

At her last check-in with the immigration office, Sherly, who translates for her mother, said U.S. Customs agents told her that her mother could not stay any longer, citing an outstanding deportation order from a missed hearing in 2006.

"I froze," said Sherly, adding that she was in such a state of shock it took her a few minutes to gather herself before she could translate those words to her mother.

"It breaks my heart," Bernarda said of the pain her situation is causing her girls.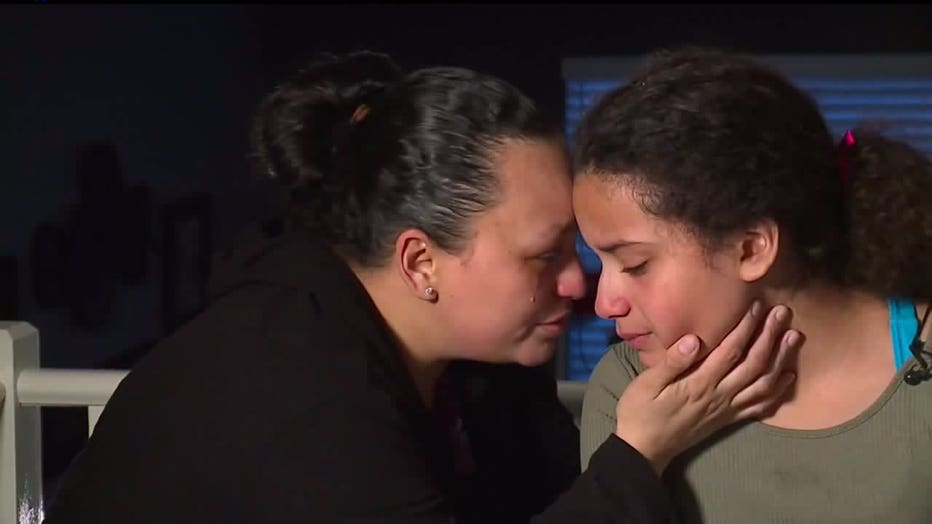 From left, Bernarda Pineda and her 9-year-old daughter, Stacey Alvarado-Pineda.


Her daughters are preparing to move to Chicago to live with their father.

Sherly said he has been a part of their lives and they see him from time to time in the summer, but said it will be very strange to live with him since they are used to life with their mom.

"It's just so strange to me. I don't really know how to feel," said Sherly.

Stacey's third-grade teacher, Barbara McKinnley, said one day Stacey  came into class crying and when she explained what was happening to her mother, McKinnley knew she had to help.

"Once you're my student, you're always my child," said McKinnley, who also taught her older sister.

McKinnley says 9-year-old Stacey is having an especially tough time with the reality of her mom's deportation.

"I'm watching her fall apart," said McKinnley.

She has been rallying the community, hoping to raise enough money to find and hire an attorney to take on Bernarda's case with the hope of preventing deportation. She says if the deportation does happen, the girls will need financial support when they move to be with their father in Chicago, who, she says, has limited resources.