Issaquah honors soccer star after MS diagnosis; she vows to 'get my cleats back on'


ISSAQUAH - Claudia Longo is a gifted young woman, and a force to be reckoned with on the soccer field.

But she'll remember the gift she received this week for the rest of her life.

Longo is a volunteer assistant coach at Issaquah High School, where she shined as a student and a soccer star.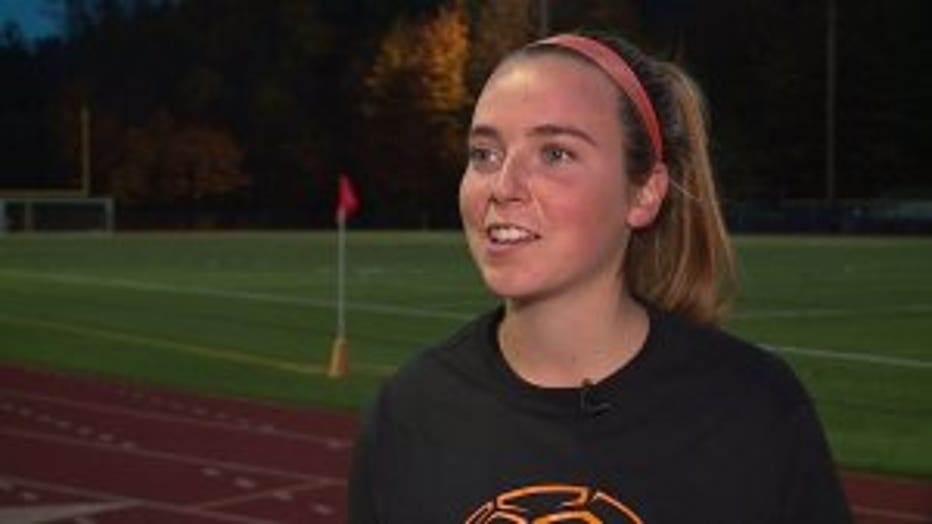 Claudia Longo. Photo: Q13 News.


She committed to the University of Washington during her sophomore year of high school, and won the state championship her senior year.

But while prepping for her freshman year at UW, doctors diagnosed her with multiple sclerosis.

"I think my whole life I've been battling smaller things - injuries just things that happen," Longo said.  "But with me, I've carried a passion for the game and a passion for soccer and a team and I think one diagnosis, one disease, isn't gonna be able to hold me back from that."

As if anything could.

"It's not gonna define my life, and I'm gonna do what it takes to keep pushing through," she said.

And if, by chance, she could ever use a push - well, her entire community's got her back.

"It started out as a simple 'let's do something to support Claudia,' and it took on a life of its own," Claudia's father Michael said. "Everyone just wanted to show their love and support of Claudia. We feel so blessed to be part of this great community."

With the support of her family, her friends, and her UW teammates, Claudia hopes to raise awareness about MS.

"In this place that I am so lucky to call home I am proud and humbled to be standing here next to my family and in front of you all," she said.

While it's symptoms may seem invisible at times, MS is a challenging diagnosis and the future is unpredictable. No two people experience the same set of symptoms, so it's nearly impossible to know how she will feel 5 years from now.

But on this night, Claudia is strong.

"This event is truly something bigger than myself," she said.

And on this night, Claudia's gifts shine bright.

While she's focused on her treatment,  Claudia's goal is to do whatever it takes to get back on that field.

In the meantime, she's giving back to the program that gave her so much, staying connected with soccer and using her gifts to educate others in the process.

"Everything is lined up for me and I'm gonna take everything that is given to me and run with it," she said. "I'm gonna do what it takes to get my cleats back on and get out there."