Iraq war vet says he was forced out of Yellow Cab for kissing boyfriend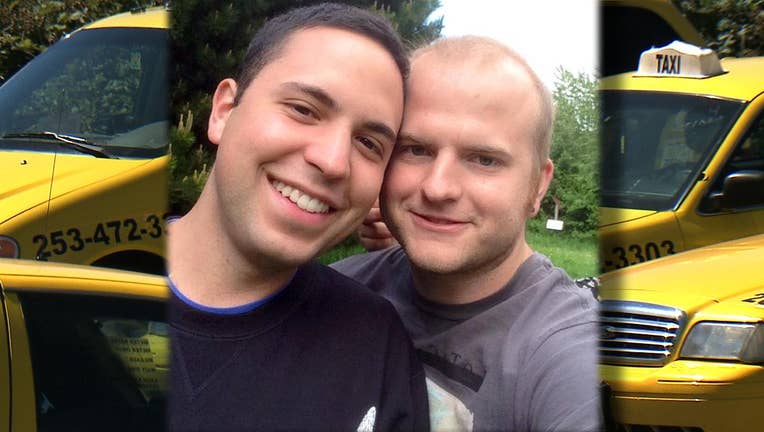 TACOMA -- His name is Eric Williams.

He spent the evening of the 4th of July at Club Silverstone, a downtown Tacoma gay bar.

At closing time Williams says he and his boyfriend, Diego, called Yellow Cab and within a few minutes their ride showed up.

Williams says they were in the cab for just a few minutes when they kissed, what he describes as a peck.

"He said, 'You're two men, why are you kissing?' We said that's my boyfriend, I'm gay. That's when the cabby started to get really hostile with us. He pulled off the road and told us to get out of the car, he wasn't going to serve us," Iraq war veteran Williams said.

While Williams says it was just a peck, the cab driver says it was much, much more than that.

He claims something more intimate was going on in the back of his cab and he was offended.

"Well there are two sides to every story. We want to just make sure both stories meet somewhere in the middle," Yellow Cab spokesman Anthony Nix said.



Williams is an Army veteran.

He survived two tours in Iraq and a Don't-Ask-Don't-Tell investigation about his own sexuality.

He never thought this would happen to him on the 4th of July in a place he calls home.

"It was very shocking to me. I was just in a state of shock when I got out," Williams said.

Yellow cab says any kind of discrimination is completely against company policy.

There is video from inside the cab that will be used in the investigation, and Nix said  if what Williams says is true, the driver will be terminated.

"If he's done this before or not, it doesn't really matter. It happened to the wrong person because I'm not going to stay silent. I'm going to let people know what happened so they know their rights, so they stand up for themselves," Williams said.

Yellow Cab says the driver has been on the job for about seven years and has never had any other complaints.

The video is what everyone is waiting on now.

Yellow Cab expects to have it by the end of this week.

It doesn't have audio but the company says the video alone should be enough for them to finish their investigation and find out who is telling the truth.