Iraq veteran gets double-arm transplant: 'It feels amazing'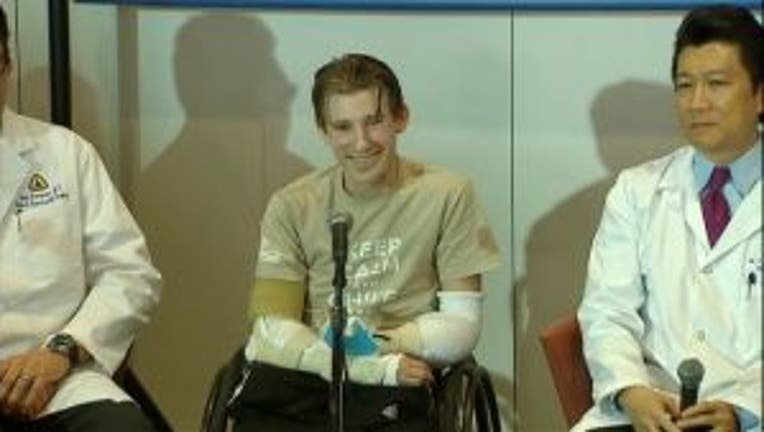 BALTIMORE -- From the moment he entered the room at Johns Hopkins Hospital for his news conference, Brendan Marrocco was a picture of determination. He pushed his wheelchair using his arms and wrists and he smiled, showing off the new limbs.

"It feels amazing," said Marrocco, the only U.S. soldier from the Iraq war to survive losing all four limbs in combat and the recipient of a rare double-arm transplant. "It's something I was waiting for for a long time," he said of the operation, a first for the hospital.

"I don't know what to say," he said. It's "such a big thing for my life. Fantastic."



Marrocco was driving an armored vehicle April 12, 2009, when he lost his arms and legs in an explosion. He and his fellow Army soldiers were returning to base after a mission near Baghdad. Only four other soldiers have survived losing all four limbs.

"I feel great. I'm doing a lot better now," Marrocco, 26, said in a video of the news conference Tuesday in Baltimore. "It gives me a lot of hope for the future."

"Six weeks ago today, a team of physicians and nurses helped restore the physical and psychological well-being of Brendan Marrocco, who lost both arms and legs serving our country nearly four years ago," Dr. W.P. Lee, who headed the surgical team, told reporters. "Only six other patients have been successful and Brendan's was the most extensive and complicated."

Marrocco said he didn't remember his reaction to the 13-hour surgery Dec. 18. "I was just happy that the surgery was over and I had arms," he said.

This was the fourth double-arm or -hand transplant Lee has done. He said he transplanted the limb donor's bone marrow to reduce the need for anti-rejection drugs. The surgery involved connecting bones, blood vessels, muscles, tendons, nerves and skin.

Lee said it could take years before it's known whether Marrocco's arms will be fully usable.

"The maximum speed is an inch a month for nerve regeneration," he said. "We're easily looking at a couple years."

-- Los Angeles Times

To read the entire L.A. Times article, click here.