Investigators trying to determine cause of Everett fire that left dozens homeless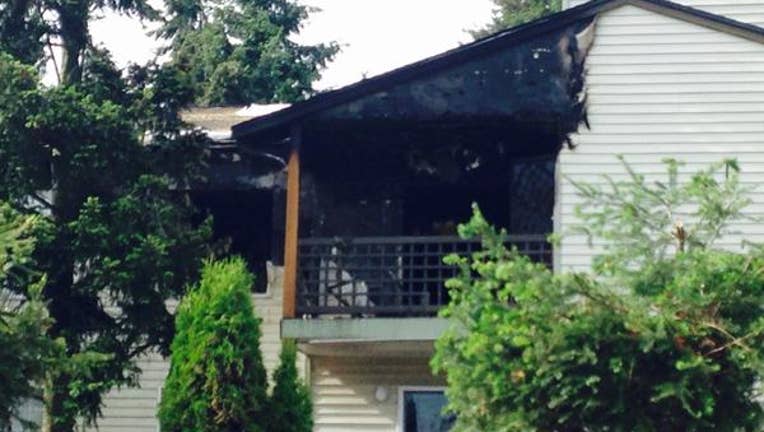 EVERETT, Wash. -- Close to 30 people were evacuated from their homes, when fire swept through an apartment complex in Everett. Investigators still don't know the exact cause, but they believe the fire started in the kitchen of an upstairs unit at the Woodbrook Apartments.

When Kasandra Wilson was evacuated from her apartment last night, she started taking video on her phone so she could show her husband what was happening.

"I saw grey smoke coming from the back of the apartment," she says. "Then when I went to the front of the apartment, it was pure black smoke. Just everywhere, coming out of the windows and doors."

Jonathan Wahl, who lives in a nearby home, says he didn't think when heard the fire alarms start to go off.

"I ran over there and made sure everybody was out. Just asked the people, they said no one was in that unit."

There were some animals in the apartment, but at least one was rescued.

"I saw a firefighter come out with a little kitten in his arms," Wahl says. "I thought that was pretty cute."




Investigators say at least one apartment was destroyed, and there's significant smoke and water damage in several others. The Red Cross is assisting fire victims.

"I feel bad for the people because all their clothes were burned, everything was burnt," says Wilson.

She knows she's lucky that firefighters were able to stop the fire, before it spread to her home. She doesn't want to think about what could have happened if they didn't get there so quick.

"You don't have time to grab anything, when those alarms go off," she says. "It's like get out, let's go. It's very scary."

Wilson says when she was finally allowed back in her apartment, she checked and realized there are no fire sprinklers in the units. It's unclear whether that made a difference.

Family members have set up a private fundraising page for one of the fire victims. If you'd like to help, click here.