Interest rates steady during coronavirus pandemic: What it means for your wallet
WASHINGTON, D.C. -- Bleak new figures Thursday underscored the worldwide economic pain inflicted by the coronavirus: The number of Americans filing for unemployment benefits has climbed past a staggering 30 million, while Europe's economies have gone into an epic slide.

And as bad as the numbers are, some are already outdated because of the lag in gathering data, and the true economic picture is almost certainly much worse.

The statistics are likely to stoke the debate over whether to ease the lockdowns that have closed factories and other businesses. While many states and countries have pressed ahead, health officials have warned of the danger of a second wave of infection, and some employers and employees have expressed fear of going back to work when large numbers of people are still dying.




RELATED: CoronavirusNOW.com, FOX launches national hub for COVID-19 news and updates

In the U.S., the government reported that 3.8 million laid-off workers applied for jobless benefits last week, raising the total to 30.3 million in the six weeks since the outbreak took hold. The layoffs amount to 1 in 6 American workers and encompass more people than the entire population of Texas.

Some economists say that when the U.S. unemployment rate for April comes out next week, it could be as high as 20% — a figure not seen since the Depression of the 1930s, when joblessness peaked at 25%.

The number of Americans thrown out of work could be much higher than the unemployment claims show, because some people have not applied and others couldn't get through to their states' overwhelmed systems. A poll by two economists found that the U.S. may have lost 34 million jobs.

There was grim new data across Europe, too, where more than 130,000 people with the virus have died. The economy in the 19 countries using the euro shrank 3.8% in the first quarter of the year, the biggest contraction since the eurozone countries began keeping joint statistics 25 years ago.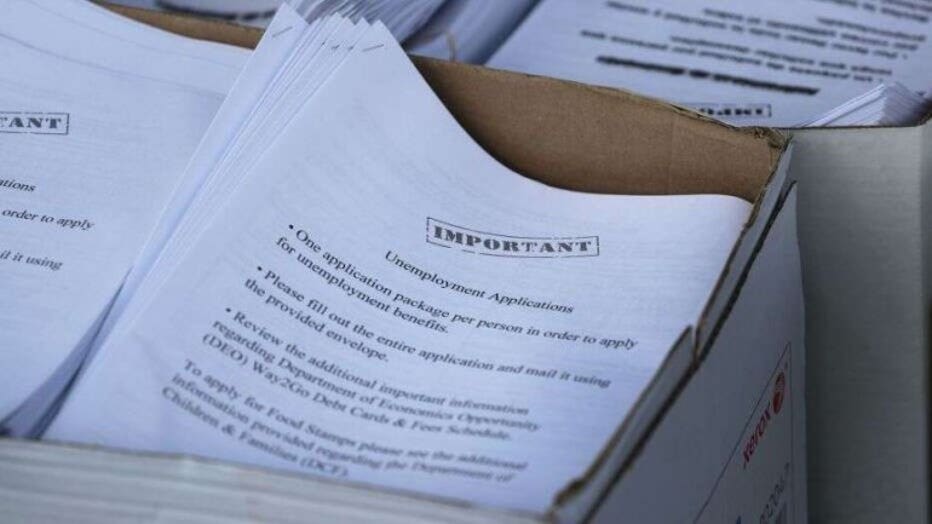 An unemployment application is seen in a box as City of Hialeah employees hand them out to people in front of the John F. Kennedy Library on April 08, 2020 in Hialeah, Florida. (Photo by Joe Raedle/Getty Images)