Inslee's gas-tax challenge may have just gotten more difficult


OLYMPIA -- In his State of the State Address on Tuesday, Gov. Jay Inslee repeated his call for a 10-cent increase in the state gas tax for roads, bridges and transit.  It's been stalled in the Legislature for more than a year and continues to face an uphill battle.

"Fundamentally, this is about safety, jobs, traffic relief and accountability," Inslee said to a joint session of the Legislature.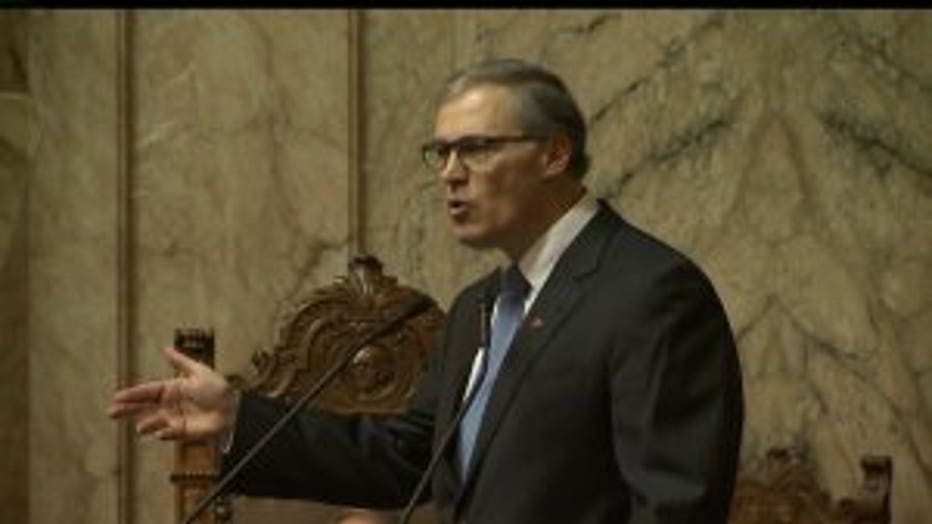 Gov. Jay Inlsee gives his State of the State Address before the Legislature Jan. 14, 2014 (Photo: KCPQ-TV/Seattle)


The governor has wanted a transportation package ever since he won office.  And even though the $10 billion plan would fund projects big and small all over the state, Inslee hasn't yet been able to make the sale.

Not helping his cause, for sure, are the big expensive problems with the SR 520 Bridge pontoons and the Bertha boring machine, which call into question WSDOT's ability to manage mega projects.

But a new, unlikely challenge has emerged for Inslee's transportation package hopes:  King County Executive Dow Constantine.

On Tuesday, Constantine, who's frustrated that lawmakers have been deadlocked on the gas-tax plan, a plan that would help save key Metro bus routes from being cut, decided to break off on his own.  He's now pushing a local taxing proposal for King County to save its buses and fix its roads.

"We cannot responsibly wait another year in the hope that the Legislature will act," Constantine said.  "We must act now for the 400,000 passengers who take the bus every day, as well as for our city streets and county roads."

But Constantine's plan could put the state's package in jeopardy.  That's because a big state gas-tax increase, which will eventually come before voters, needs the heavy support of blue, tax-friendly King County.  Otherwise, it fails.

If Constantine gets to those same county voters first and has them pony up for the most pressing problems, including transit, then will they support a big tax increase that includes a lot of roads around the state that aren't as big a priority to them?

Even state Senate Majority Leader Rodney Tom, D-Medina, is worried about King County going it alone, especially because that could put in jeopardy gas tax money that will help finish the biggest project of all -- the 520 Bridge.

"Talk about gridlock," said Tom.  "If they go at it alone and we can't pass a roads package, is going to become the poster child.  If I'm South Carolina, I hop up in a helicopter, I take a picture of it, and I say is this really a state you (Boeing) want to do business in?"

It seems that Inslee's push for a gas tax package is getting harder, not easier, as time goes on.