Inslee sees progress at Oso slide area: SR 530 may reopen next month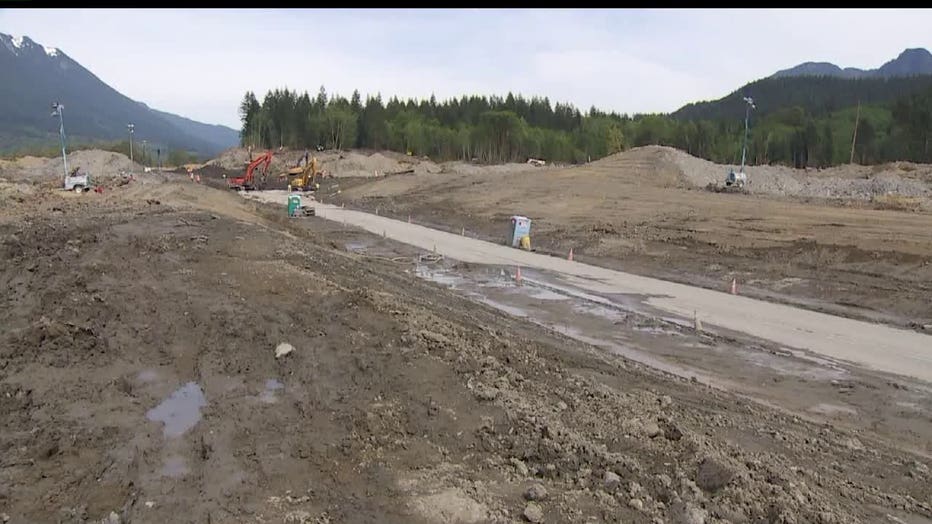 State Route 530 near Oso is in better shape than the Washington State Department of Transportation originally thought and may reopen by mid to late June. (Photo: KCPQ-TV)


OSO, Wash. --  Gov. Jay Inslee toured the Oso mudslide site Thursday and said the cleanup from the March 22 disaster is further along than he expected. State Route 530 may reopen in the next 4-6 weeks.

The paper hearts on the wall of the Darrington IGA are small reminders of the huge loss from the mudslide.

"It was very devastating for the whole community," says Charletta Jones, who works at the IGA. "But we are very closely-knit, involved people that we help each other out."



Nearly two months later, businesses are starting to recover. It's partly because a makeshift road is allowing visitors to return to the community that was cut off when the mud swallowed SR 530.

"It is tremendous," says Jones. "I've been over it 10 times, and I was extremely impressed with WSDOT, the improvements they made."

But the road is only wide enough for one-way traffic. That means long delays, keeping customers and tourists away.

"We had the play day a couple weeks ago, and it was great because the road allowed them to come through with their horses and stuff," says Aya Walksfar. "But it wasn't nearly the numbers we normally have."

But there is some good news.

Inslee learned SR 530 is in better shape that the Washington State Department of Transportation thought. They could reopen the highway by mid to late June.

"We know how important this is to the economy of Darrington and Oso and Arlington," Inslee said. "So I'm pleased we're making progress."

But the governor says tourists don't have to wait for SR 530 to open to plan their visit.

"Darrington Day is May 31, the blues festival is coming up, the restaurants are open," he said. "This is a place to bring your family and recreate for the next couple months to help these communities and these small businesses."

Locals are glad the governor is spreading the word.

"We'd like to tell everyone to come, enjoy our festivals, come and see our town," says Walksfar.