Inslee renews call for 10-cent gas tax hike, wants special session


SEATTLE -- Gov. Jay Inslee on Tuesdsay renewed his call for a 10-cent increase in the gas tax for transportation projects across the state.  The need is so great, he said, that he wants to call state legislators back to Olympia for a special session in November to get a package approved before the end of the year.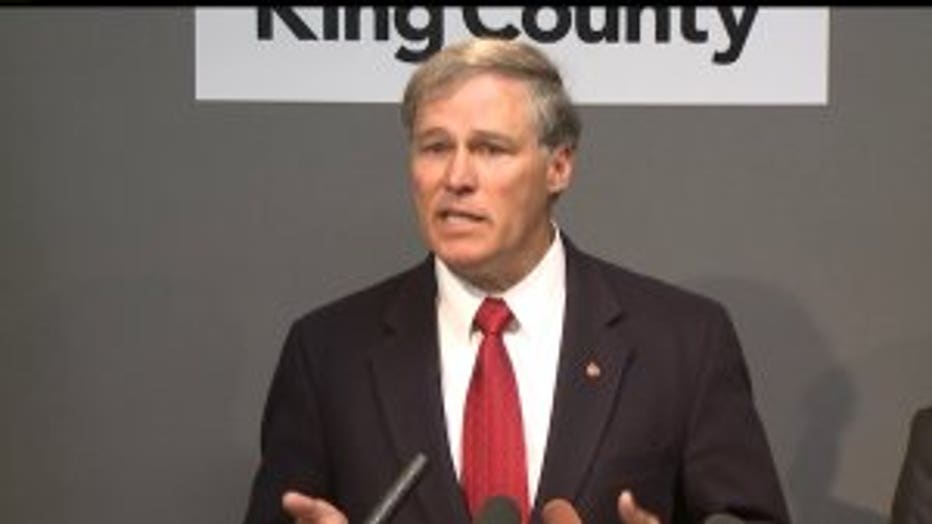 "You can't maintain bridges or build bridges without dollars," Inslee said.

Not getting a big, multibillion-dollar transportation package was one of the governor's biggest disappointments of what was, for Democrats, a pretty disappointing legislative session this year.  Inslee tried hard, especially after the Skagit River bridge collapse, but the Republican-controlled state Senate never went for upping the gas tax.

On Tuesday, Inslee was pretty harsh on lawmakers, calling it an "abject failure" of leadership, but vowed to keep pushing.

"I went through six months of discussion, planning, cajoling, negotiation, whatever verb you can come up with, to try to get the Senate to act," Inslee said.  "They didn't do a dang thing.  Now they need to step up to the plate."

The governor said a $10 billion infrastructure package should be voted on this year, before legislators come back in January for its 2014 session, because safety and congestion problems haven't disappeared, and because 2014 is an election year, a much harder climate for politicians to increase taxes.  So, if it's not done soon, Inslee argued, that means the next likely chance for a vote wouldn't be until 2015, and then the state will have lost two construction seasons.

Inslee said the political pressure is in his favor.

"Since legislators have returned home from the Senate, they have caught both barrels from the business community saying, why haven't you acted?" he said.  "As a result, we are seeing an increased appetite for action."

Members of the state Senate majority, who stymied Inslee's gax-tax proposal earlier this year, said much more has to happen before they will go along with Inslee.

"The governor talked about we need a 21st century transportation system," said Sen. Steve O'Ban, R-Pierce County.  "Any 21st century transportation system has to have basic reforms.  We can't keep spending money the way we have for the last 30 years and expect a different."

Among the reforms O'Ban is hoping for is waiving the sales tax on transportation projects.

Though Inslee said he's willing to negotiate the details, the plan he is proposing is the one he's been shopping all year, including bridge retrofits, road repairs, and corridor expansions on some key highways.  Those in the Puget Sound include I-5, I-405 and state routes 167 and 509.  The governor's package would also include taxing authority for local transit agencies, including Metro, to stave off big bus route cuts.