Inslee proclaims Thursday to be 'Washington's Most Wanted' Day


OLYMPIA -- Gov. Jay Inslee proclaimed today to be Washington's Most Wanted Day in recognition of the program's 500th capture.

Since November of 2008, Washington's Most Wanted, in partnership with Crime Stoppers programs statewide, has aided local law enforcement in the arrest of Washington State's most dangerous and violent offenders. Fifty-eight law enforcement agencies throughout the Pacific Northwest have had their fugitives featured on Washington's Most Wanted.

"If you're a criminal trying to hide in Washington state, you're going to have a tough time," said Gov. Jay Inslee. "We have six and a half million people working together to keep our communities safe. Thanks to the hard work of the men and women serving in law enforcement agencies throughout the state, and to the vigilant viewers of Washington's Most Wanted, there are 500 violent offenders off our streets and behind bars."

"The success of Washington's Most Wanted is a testament to the natural synergy between our programming and local law enforcement agencies to bring suspects into custody," said Q13 FOX SVP and General Manager Pam Pearson. "Q13 FOX remains as always, committed to empowering our viewers with information to keep our communities safe and criminals off our streets."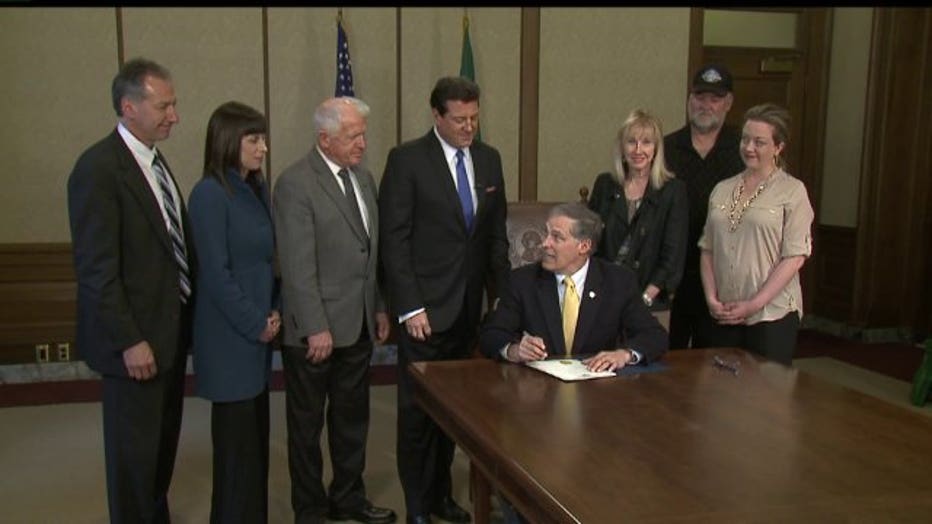 Gov. Jay Inslee signs the proclamation in Olympia. On his left is David Rose, host of Washington's Most Wanted program. (Photo: KCPQ-TV)


The arrest of convicted sex offender and accused Tacoma rapist Harvey Johnson marked the 500th capture. He was apprehended on March 6 in Seatac by King County detectives and the US Marshals Pacific Northwest Apprehension Task Force. Host David Rose said, "Johnson's capture should be a huge relief to parents and women in Washington State.  His sex crimes are sickening and our community is much safer today because he is in jail. The credit goes entirely to our viewers who called in tips all week when they spotted him."

Johnson's arrest came less than a week after he was featured on Washington's Most Wanted as the top fugitive. Johnson had a $100,000 warrant for failing to register as a sex offender.  He was convicted in 1997 for child rape.

"Being part of the 500th capture is really exciting," said King County Sheriff John Urquhart. "That's great for us, great for law enforcement, and even better – it's great for the community."

Washington's Most Wanted features a wide range of stories including murder suspects, cold cases, missing persons, sex crimes, bank robberies, cyber-crimes and neighborhood safety issues. The weekly show on Q13 FOX also continues to work closely with all city, county, state and federal law enforcement agencies within the state of Washington. Its mission is not only to make our communities safer but give voice to the victims.

"David Rose and Parella Lewis are doing the job helping the community and helping the police departments and sheriff's offices across the state get the bad guys off the street and keep our communities safe. Thank you guys and thank you Q13 FOX so much for your hard work," said Congressman Dave Reichert.

Washington's Most Wanted, hosted by Q13 FOX News Anchor David Rose, airs Saturdays at 9:30pm on JOEtv and Saturdays at 10:30pm on Q13 FOX. Washington's Most Wanted also airs on Saturdays at 10pm on FOX 41 in Yakima, 10p on FOX 11 in the Tri-Cities, Saturdays at 10:30pm on FOX 28 in Spokane and Sundays at 12:00am on Portland's CW32 in Portland, Oregon. Fugitive files and safety tips are also available online at www.catchwmw.com.