Inslee calls for higher minimum wage, more pay for teachers


OLYMPIA --  In his first State of the State Address before a joint session of the Legislature, Gov. Jay Inslee on Tuesday laid out a bold plan for his second year in office, including more money for education, for transportation, and a much higher minimum wage.

"There are tens of thousands of jobs that people depend on that don't provide a living wage in our state," Inslee told legislators.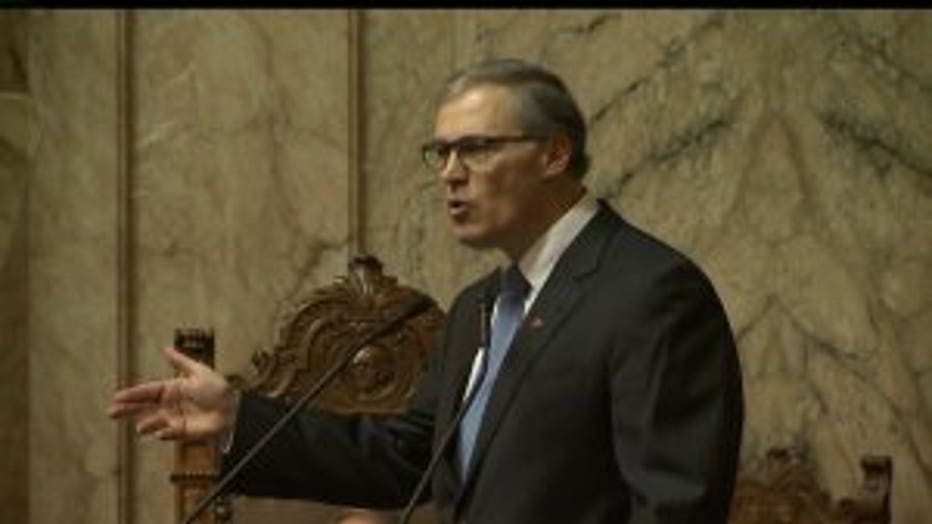 Gov. Jay Inlsee gives his State of the State Address before the Legislature Jan. 14, 2014 (Photo: KCPQ-TV/Seattle)


The state of Washington already has the highest minimum wage in the country, at $9.32 an  hour. But Inslee asked lawmakers to consider raising it by as much as $2.50 an hour.

"There is ample evidence that a raise in that range does not kill jobs," the governor said.  "An increase in the minimum wage means more money being spent throughout our economy."

Inslee also pushed lawmakers to move on the long-debated plan to increase the state gas tax by 10 cents for roads, bridges and transit.

A multibillion-dollar transportation package will be an uphill battle after the recent problems and anger at the Washington State Department of Transportation for the SR 520 Bridge pontoon cracks and the SR 99 tunnel-digging blockage.

"We're not going to continue to take the taxpayers' dollars and flush it down or sink it in a lake or do whatever with it," state House Minority Leader Dan Kristiansen, R-Snohomish, said.  "We want to make sure it's really going to be spent well."

Inslee said lawmakers should consider the successes of WSDOT as well, including the widely praised rebuilding of the Skagit River Bridge.

"We cannot let issues on legacy mega-projects stop us from moving forward as a state." Inslee said.  "The 520 Bridge has to be finished.  We don't gain taxpayers' trust by building a bridge that stops before it gets to I-5.  That doesn't make sense."

On education, the governor made clear reference to the state Supreme Court's order last week that more needs to be done to fund public education, and proposed $200 million to help meet that mandate. He proposed cost-of-living wage adjustment increases for teachers, who haven't had a COLA in six years.

"It will also fund a long-overdue cost-of-living adjustment for our educators," Inslee said of his education funding proposal.  "We must weigh tax breaks against the increasing call for action for education."

The governor also called for eliminating B&O taxes for small businesses with revenue below $50,000 and pushed for action to reduce carbon emissions.