Indianapolis house explosion kills two, destroys neighborhood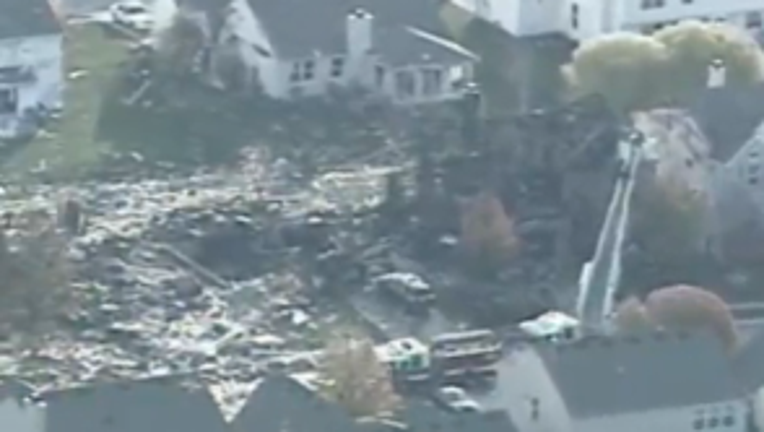 Officials are trying to learn why a Saturday night house explosion and fire in a south Indianapolis neighborhood killed two people, flattened two homes, destroyed more than two dozen others and forced a whole neighborhood to evacuate.

The explosion rocked the Richmond Hill subdivision sometime after 11 p.m. The blast was so large that Marc Lotter, spokesman for Indianapolis Mayor Greg Ballard, told the Los Angeles Times that "most" of the homes in the 126-home subdivision incurred some kind of damage -- including blown-out doors and windows, and total destruction at the center of the explosion.

Indianapolis Fire Department officials have not yet ruled out any cause for the blast that sent seven other residents to the hospital and shocked nearby survivors.

Whitney Pflanzer and her husband told the Indianapolis Star they were in bed when the explosion blew out their windows and collapsed their ceiling.

"It was like a war zone," Whitney Pflanzer told the Star. "It was silent after that. And it was dark and dusty, and I thought it was a nightmare — it was a nightmare."

Footage from the aftermath Saturday night showed firefighters picking through mounds of ruin as the flames flickered. Aerial footage the next morning showed the extent of the damage -- piles of rubble where two homes used to be, homes half-destroyed next door, other nearby roofs and walls blown out.

Lotter told the Los Angeles Times that 30 homes were deemed uninhabitable and would have to be demolished or extensively rehabilitated to be livable again. Initial property damage estimates exceeded $3.6 million.

Only a few residents had been allowed back into their homes to gather belongings. Survivors were working with friends, family and the American Red Crossto find places to stay, Lotter said, with the nearby Southport Presbyterian Church serving as a staging area. Local media photos showed volunteers bringing in piles of supplies for the survivors.

"In the typical Hoosier fashion, neighbors are stepping up to help their neighbors in need," Lotter said.

The U.S. Bureau of Alcohol, Tobacco, Firearms and Explosives was assisting with the investigation to determine whether arson was involved.