In wake of controversy, students rally in support of increased diversity at WWU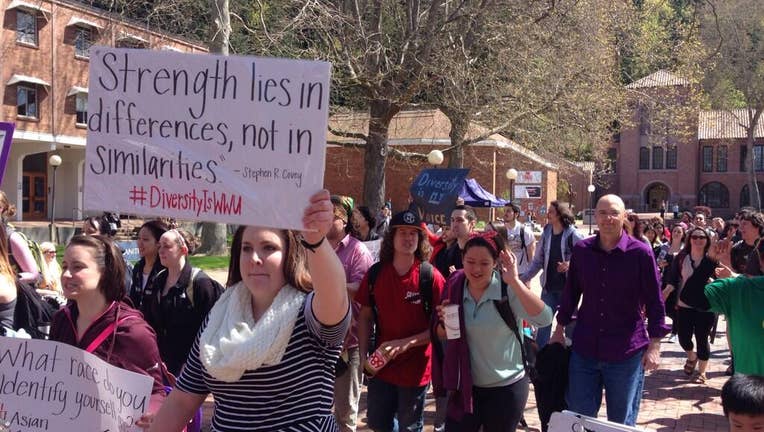 article


BELLINGHAM, Wash – Hundreds of students rallied Monday in support of a plan to increase racial and ethnic diversity among the population at Western Washington University.

WWU came under fire recently after the University President, Bruce Shepard, said if the school doesn't increase the number of students of color on campus that will be a failure for the school.

Among the questions on a March school-wide questionnaire was 'How do we make sure that in future years we are not as white as we are today?'

After stories from the local and national media circulated at least one hate group surfaced near campus protesting in favor of a whiter student body.

Monday hundreds of students, faculty and staffers listened to speakers at a rally in support of increased diversity.

In March students shared their opinions on the topic with Q13 FOX News.

"There are a lot of students here who are white and that's just kind of how it is," said freshman Thea Strand.

"I would be like the only black kid in the class," said Ajane Burnley, a senior at WWU.

"Me personally, I don't notice a lot of color," said junior Tony Mendez.

President Shepard has long publicly worried that a homogeneous student body will keep kids of color from applying at Western.

"If Western is as white in the years ahead as it is today, we will have failed as a university," said Shepard.

Nearly 83% of Western's staff are white and so is almost 3/4 of the student body.