Immediate evacuations ordered for wildfire near Twisp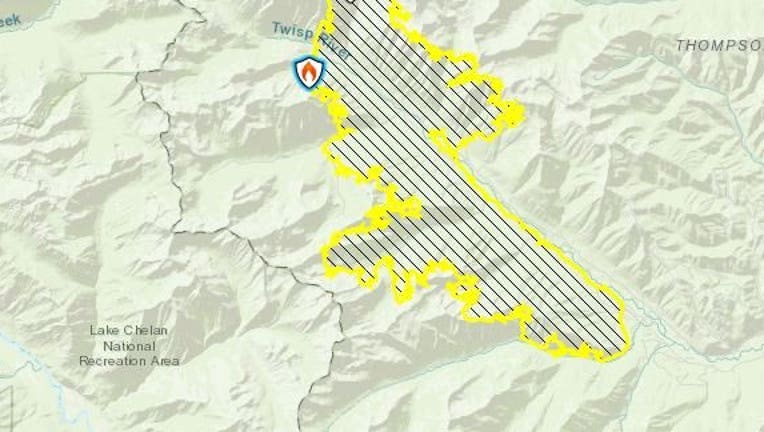 TWISP, Wash. — Authorities on Friday issued immediate evacuation notices for about 40 homes being threatened by a wildfire in north-central Washington.

The Crescent Mountain Fire is burning in subalpine fir, grass and meadows near the headwaters of the Twisp River west of Twisp. It was started by lightning on July 29.

The fire had been holding a little less than 2 miles from the closest home, but authorities say it became more active on Friday, prompting the evacuation notices. Campgrounds in the area had already been closed.

"A level 3 (mandatory) Evacuation has been issued for persons living on West Buttermilk Creek Road and Twisp River Road all west of the Buttermilk Creek intersection," the Incident Command said. "Persons should evacuate NOW, do not wait."

The Crescent Mountain Fire is currently on Snowshoe Ridge advancing down drainage toward Eagle Creek, the incident command said.

The command said Crescent Mountain Fire has burned nearly 18,000 acres and is 37% contained.

Residents were urged to head toward Twisp.

The Red Cross set up a shelter at the Methow Valley Community Center, at 201 Division Street in Twisp.

"Evacuating residents are encouraged to bring the following for each member of their family: prescription and emergency medication, extra clothing, pillows, blankets, hygiene supplies, important documents and other comfort items," the Red Cross said. "Additionally, special items for children and infants, such as diapers, formulas and toys, should be brought, along with other items for family members who may have other needs."