Icy roads could cause messy Monday morning commute along Puget Sound


SEATTLE -- Freezing overnight temperatures could create a messy Monday morning commute for drivers in Western Washington. Overnight low temperatures are expected to drop below freezing for everyone, and stay that way until 9 a.m. Monday.

Roads that are still wet or slushy will freeze late Sunday night.

Lows in the metro areas may also reach near freezing and some side roads, hills and along Interstate 5 could have icy spots and black ice. Q13 Meteorologist Rebecca Stevenson says drivers should be extra careful on hills around Bellevue to Tiger Mountain.

Q13 Meteorologist Kaie Boer says "we will likely see weather-related accidents on the roads tomorrow." She suggests leaving after 8 a.m., if you can.

SDOT says they're ready for Monday's icy morning commute

Motorists should use caution Monday morning.

We'll stay dry but cool through Tuesday before warmer temperatures and more rain chances arrive. Rain is likely by Thursday and Friday.

Sunday night

Rain and snow showers will end across the lowlands of Western Washington Sunday evening. Skies will begin clearing later tonight, allowing low temperatures to dip to near or below freezing in many areas.

Port Angeles, Mt. Vernon, Bellingham, Enumclaw, Olympia, Shelton will see temperatures in the mid and upper 20s.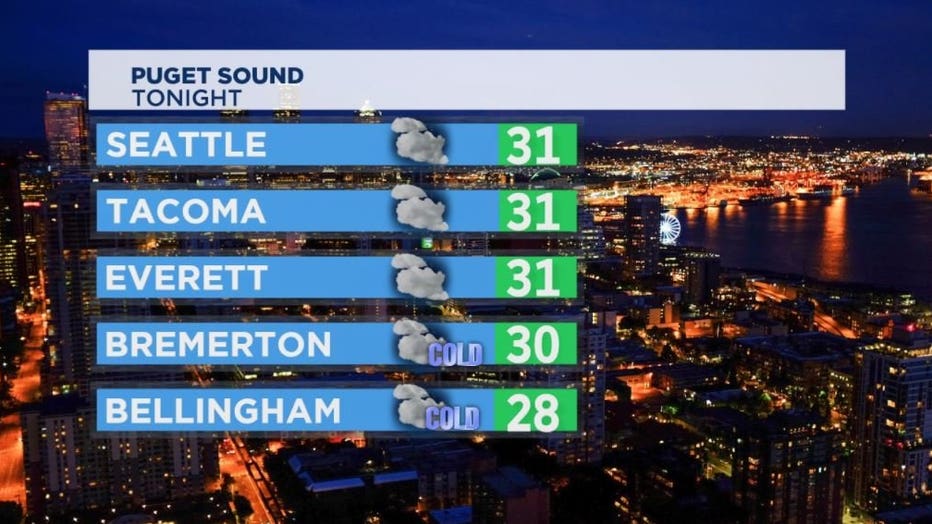 Other cities will see lows in the 30s with decreasing clouds after 3 a.m. will drop temperatures even more.

The passes early Monday morning will be in the teens.

The passes

Meteorologist Kaie Boer says snow will continue for the next few hours in the passes – which means problems for folks driving over I-90 or Hwy 2.

Snoqualmie Pass – Snow likely until 9/10 p.m. Up to 1-inch possible. Mostly cloudy. 30% chance snow from 10 p.m. - 3 a.m.

**road is bare/wet/snow in places – chains required**

I-90 back open, but motorists should expect delays up to 2-hours

Stevens Pass – Snow chance until 10 p.m. Less than 1-inch new snow possible. Very cold. Wind chill temps 10-15°

**road is bare/wet with ice and snow in places – traction tires advised**

Monday

Monday should turn out to be a gorgeous day. Most of the region will get mostly sunny skies with highs staying in the low to mid-40s.

Tuesday

Stevenson says Puget Sound can say goodbye to the chilly Canadian air mass by Tuesday and turn the corner to warmer weather. Expect highs in the upper 40s to low 50s.

Partly to mostly sunny skies through Tuesday morning, but by the afternoon the cloud cover will thicken up for mostly cloudy skies.  Overnights drop into the low 40s.

Wednesday

Increasing rain and wind.  Cloudy and wet. Rain likely.  Highs near 55 with lows dropping into the low 40s.

Sunday snow reports 

Snoqualmie Pass – 7" (as of 9am)

Woodinville -- 0.4" (7:15am)

Carnation -- 0.3"   (7am)

Sequim – 4.6" (8am)

Port Angeles – 0.7-2.8" (7am)

Oak Harbor – 0.3" (6am)

Port Ludlow – 1.4" (8am)

Gold Bar – 7" (7am)

Lake Stevens – 0.2" (9am)