Iconic Woodstock singer Richie Havens dies at 72


By Randy Lewis

Los Angeles Times

Richie Havens, the veteran folk singer whose frenetic guitar strumming and impassioned vocals made him one of the defining voices and faces of Woodstock, and by extension, of 1960s pop music, died Monday of a heart attack at his home in New Jersey, his publicist said in a statement. He was 72.

The Brooklyn native with the powerhouse ripsaw voice was the opening act at the festival billed as "Three Days of Peace and Music" in upstate New York in August 1969, and galvanized rock fans as they trekked in to the festival site from across the Eastern Seaboard and throughout the country.

His performance of "Freedom/Motherless Child" embodied the sense of frustration at the strictures of the social status quo and looming liberation being felt by blacks and whites, men and women during an era of tremendous sociopolitical turmoil.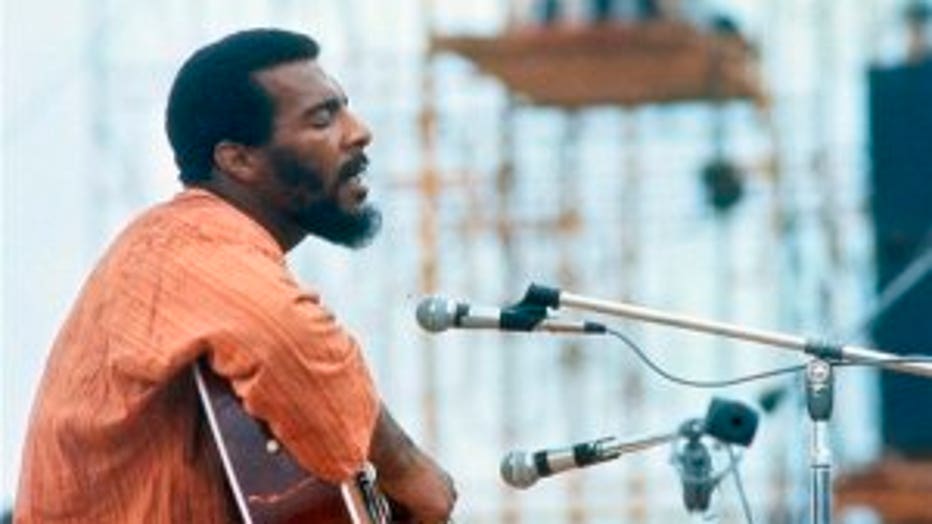 Reviewing Havens' performance at the Troubadour in West Hollywood about a year before Woodstock, Times staff writer Pete Johnson wrote, "He sings in a lispy rasping voice which by all odds should be unappealing and flails the strings of his guitar with an energy which belies sensitivity, but the perofrmance and the man remain inarguably beautiful."

He charted more than a dozen albums over a period of nearly 20 years from 1968 to 1987, peaking with his 1971 album "Alarm Clock," which reached No. 29 on the Billboard 200.

Havens toured and recorded for more than four decades, but had to give up touring last year

because of complications following kidney surgery.

"Even when performing in a Greenwich Village coffeehouse or a small club or regional theater, he was eternally grateful that people in any number turned up each time to hear him sing," according to a statement issued by his booking agency. "More than anything, he feels incredibly blessed to have met so many of you along the way."

On Monday, Rage Against the Machine and the Nightwatchman singer-guitarist Tom Morello tweeted "RIP Richie Havens. A great talent, great soul."

Singer and songwriter Michael Nesmith of the Monkees, who took Jimi Hendrix on tour as their opening act before his career skyrocketed, tweeted "A HUGE loss to the music world. Devastating news."

Producer and musician Joe Henry sent out a tweet stating, "The great Richie Havens has passed. A heroic and generous spirit; a most singular artist. He changed me. He changed you too, know it or not."

Benmont Tench, of Tom Petty's Heartbreakers, tweeted: "Oh no. Richie Havens. What a voice. So unhappy about this."

He is survived by four children and several grandchildren. No services have been announced.