Ice storm wallops Southeast, cutting power to more than 480,000


ATLANTA (CNN) – A snow and ice storm swept through the Southeast Wednesday, bringing some of the region's most populous cities to a standstill.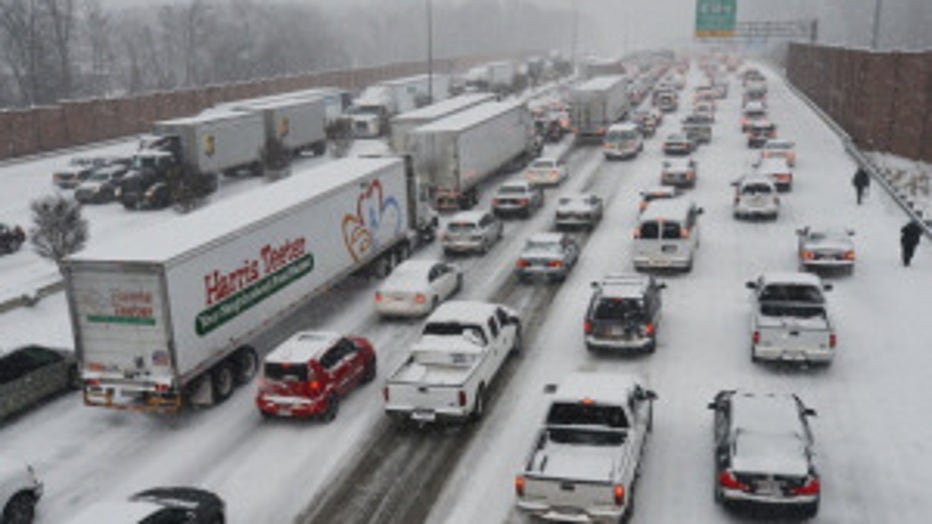 Traffic was stopped on I-85 in both directions looking towards the Roxboro Road exit in Durham, N.C., as motorists and pedestrians attempt to get home during a winter storm on Wednesday, Feb. 12, 2014. (Chuck Liddy/Raleigh News & Observer/MCT via


Freezing rain brought heavy ice accumulations from Atlanta to Charlotte, N.C.

More than 480,000 customers were without power in the Southeast, roughly 136,000 of whom were Georgia Power Co. customers, the utility said.

South Carolina was the hardest hit, with about 220,000 customers without electricity, while Wilmington, N.C., accounted for more than 58,000 outages.

The utilities said Wednesday morning they expect those numbers to rise over the next 24 hours.

Georgia Power, the state's largest utility, warned that hundreds of thousands could be without electricity for days.

"This has the opportunity to be a huge event when you're talking about the amount of ice you're looking at," Aaron Strickland, Georgia Power's emergency operations chief, told reporters.

The utility staged fleets of trucks across the area. Teams from Florida, Texas and Ohio bolstered local line crews.

The storm system also was taking its toll on travel.

Amtrak suspended some rail service in the Northeast, South and Mid-Atlantic regions for Wednesday.

Nationwide, more than 3,300 flights were canceled Wednesday and even more were planned for Thursday, according to FlightAware.com.

Calling ice the biggest enemy, Georgia Gov. Nathan Deal declared a state of emergency. School districts canceled classes and government offices were shuttered in an attempt to avoid a repeat of the traffic paralysis caused by a storm last month.

Up to three-quarters of an inch of ice was expected to accumulate in Atlanta and up to 10 inches of snow and sleet were expected in Raleigh and Charlotte, making travel treacherous.

At least nine deaths have been blamed on the weather, including two people who were killed in Georgia and two who died in North Carolina, authorities said.