'I wish they could come clean': Mom of boy shot at Des Moines bus stop wants suspect to come forward


DES MOINES, Wash. – A 13-year-old Tukwila middle school student is recovering at home after being shot in his arm while sitting at a King County Metro bus stop early Monday morning. Police believe he was the victim of a random drive-by shooting.

"He keeps hearing that gunshot in his head," said Marline Toilolo, the victim's mother, "He's experienced some trauma in his head, so he might have to go to counseling for that."

Deedraic Toilolo's mother says her boy is recovering at home, but still worries about the violent incident.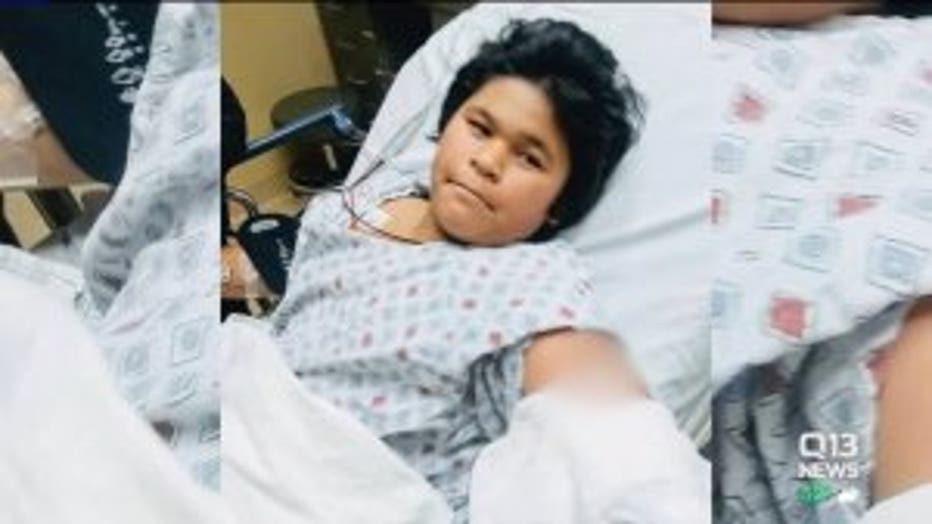 "He's shaken up, and I think he's afraid to come out now. He just feels like somebody is out to get them," she said.

Witnesses along Pacific Highway South told police they heard multiple gunshots around 7 a.m., and that the gunfire came from two people riding in a blue Honda hatchback.

Police say Deedraic was sitting at a bus stop waiting to go to school when the gunfire came out of nowhere. Medics rushed the boy to a nearby hospital with a bullet wound through his left arm.

But what's most alarming for Deedraic's mother – most bystanders ignored her child's pleas for help. A Good Samaritan ended up calling 911 only after the boy ran to another bus stop nearby.

"I'm mad because as a parent you can't just ignore someone in help. They're in dire need," said Toilolo.

Des Moines Police are investigating the shooting and the department told Q13 News that Deedraic has no connections to gangs, but detectives won't know about the suspects until someone comes forward to identify a shooter.

The child's mother said she's relieved her son wasn't more seriously hurt or killed – and she hopes whoever pulled the trigger faces justice.

"I wish they could come clean and just say that, I mean, if it was by accident random playing with a gun, I don't know," said Toilolo.

Detectives are pulling surveillance camera footage from nearby businesses to see if they can narrow down their search for a suspect.

Anyone with information in the shooting is asked to call the Des Moines Police tip line at (206) 878-3301. Crime Stoppers of Puget Sound is also offering a cash reward of up to $1,000 for tips that lead to an arrest. Submit the information at http://www.P3Tips.com or use the P3 Tips App that you can download to your phone for free. You can also call 1-800-222-TIPS (8477). It is anonymous.

The Tukwila School District released the following statement to Q13 News regarding the incident:

A 13-year-old Showalter Middle School student was shot in the upper arm Monday morning as he waited for a Metro Bus to take him to school. Right now the shooting appears to have been random, and the student was not the target. Police are still investigating the incident. The 8th grader was waiting for a Metro Bus at a stop in Des Moines, Washington when he was shot on Pacific Highway South just before 7 a.m. Monday. The student reportedly sought help from bystanders but was denied. He then traveled on foot to another location where he was able to find assistance. He was hospitalized for a short time and was sent home to recover. His family is very concerned about the lack of responsiveness from those nearby at the time of the shooting. They hope that in the future people are more understanding of those obviously needing help, and don't respond to people in need in the same manner in which their student was treated. "Our student safety is our priority every day," said Communications Officer Rhonda Lee. "We will be working with all of our transportation team members both inside and outside of the District to make sure that decisions are made to insure the best possible, and safest route to school is taken." The student is recovering at home and his family said he is in good spirits. The wound is not severe, no bones were broken or serious damage done. He is expected to be in school Wednesday, and different transportation arrangements are being made by Tukwila School District for him.