Husky women's basketball: Overcoming odds on and off court


SEATTLE -- The Husky women's basketball team heads into the Pac-12 Conference Tournament after posting their best record since 2007.

And they're ready, to say the least.

"I think it's a real testament to the competitive character of our players that they didn't accept that we had some limitations; therefore, couldn't have success," head coach Kevin McGuff said.

The Dawgs lacked some size this season after 6-foot-3 center Katie Collier had surgery to repair extensive damage in her right knee. But throughout her recovery, the freshman from Covington hasn't missed an opportunity to be there for her team.

"Without support, there can be little to no victory, with anything, with sports or in life. If you're missing support, then you're not getting, not reaching your full potential in anything," Collier said.

Collier took this lesson to heart after being diagnosed with leukemia during her senior year of high school.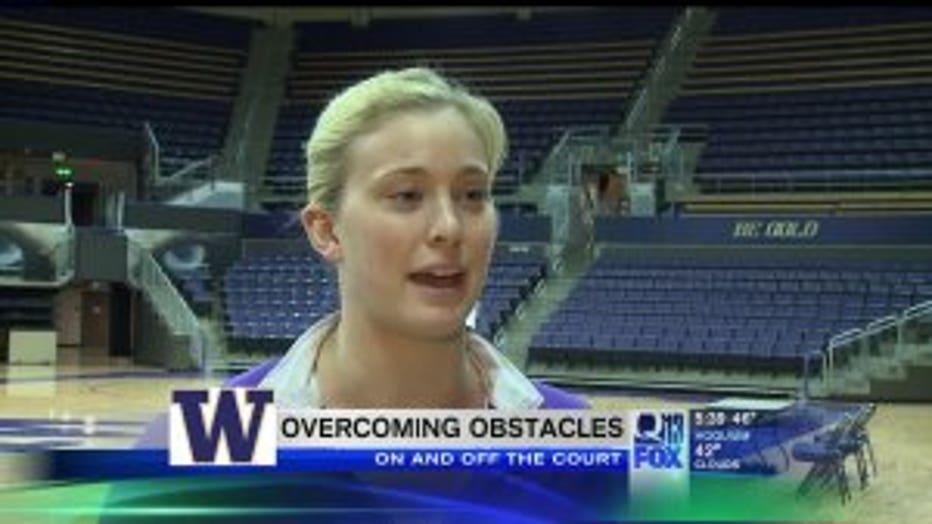 "Having cancer was like a huge eye opener. Reaching out to other people and being more personal and just giving me more wisdom from learning from other people, like my mom has gone through it, and just being able to connect with different people at different levels and for me just seeing the appreciation for life just better," Collier said.

McGuff said her battle has inspired others, including the coach.

"It's really been inspiring to me," McGuff said. "Just to see the way her family has supported her, the way she has embraced this challenge head on, and I don't think I've ever seen anybody at such a young age with such grace and dignity accept the challenges she has. It does help put a lot of things in perspective for all of us."

From Collier's perspective, this is her opportunity to give back to the game that has given her so much. Even in the midst of chemotherapy, she managed to play in 19 games that year. She said playing helped saved her life.

"Playing basketball helped me to kind of put the cancer and the chemo and everything to the side and be happy."

On Wednesday, Collier gave back by volunteering at the Ronald McDonald House, something she does often. When Washington faces Oregon Thursday in the first round of the Pac-12 Tournament, you can bet Collier will be on the sidelines, cheering on her teammates as she has all season long.