Hundreds turn out for Seattle's town hall on $15 minimum wage issue


SEATTLE -- Hundreds of people packed a town hall meeting Wednesday night to discuss whether the state's highest-in-the-nation $9.32 an hour minimum wage should be raised to $15 in the city of Seattle. The vast majority appeared to be in support of the proposal.

People stood out in the rain hours before the meeting even began, so they could tell the Seattle City Council and Mayor Ed Murray's Income Inequality Advisory Committee why the minimum wage in the city needs to be raised.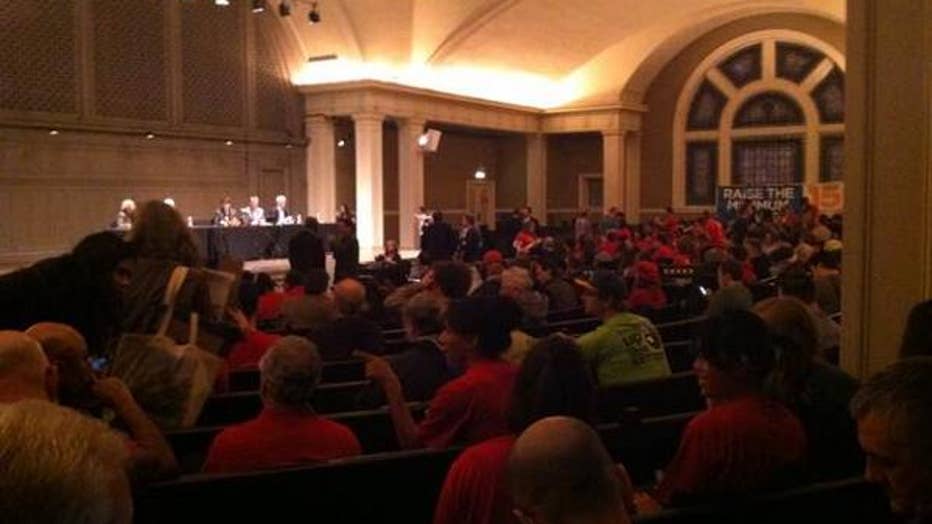 People pack a Seattle town hall to listen and to express their views whether the minimum wage in the city should be raised to $15 an hour. (Photo: Tina Patel/KCPQ-TV)


"I'm basically unemployed right now, but I don't think I've ever made more than $15 an hour," Katie Nelson said. "I know people who are working two or three part-time jobs just trying to make ends meet. And the way rents are so high, you can easily be spending over half your income in rent every month."

Socialist Seattle City Councilwoman Kshama Sawant campaigned on this issue and was elected to her office last fall. She said momentum is building to help the lowest wage workers in Seattle.

"I think a lot of progress has been made in terms of our efforts to build a mass movement on the ground."

But not everyone agrees that raising the minimum wage to $15 an hour is the answer.

"I think it's an idea that would cause more harm than good, to be honest," said Max Nelson, a labor policy analyst with the Freedom Foundation. "If you force a government mandate on businesses, and they're stuck trying to work their business model to comply with that, very often it's the workers who end up getting laid off or having their hours reduced as a side-effect."

Kathy Yasi runs a day care. She already pays her workers more than the minimum wage, but she said many are still struggling.

"One woman is married, and she still lives with her mom," she said.

A $15 minimum wage would help her employees, Yasi said, so she's supporting it even though it could hurt her bottom line.

"I'm a small business owner. Of course, it would be an adjustment," she said. "But the thing is, I really believe we have to act from integrity, and I know I could figure out an answer."

Sawant hopes other small business owners start to think like that.

"I appeal to them to join our struggle, so we can work together to find the best mechanism possible to ensure that no worker lives under 15 and we are able to help small businesses and government-funded human services," Sawant said.

This is not the only chance the public will have to weigh in on this issue.  Council members and the mayor's advisory committee are both planning other meetings and forums in the coming weeks. The mayor's advisory committee hopes to make recommendations for legislation to the mayor by the end of April.