Hundreds gather to mourn 5 family members killed in a fire
TUMWATER, Wash. - Hundreds of people packed the Tumwater District Stadium on Sunday night – not for a football game, but for a goodbye.
On Saturday, January 21st a fire ripped through the Cox family home in rural Thurston County. Steven and Destiny Cox were killed along with three of their children. 
The lone survivor of the fire: a family friend, Kinsley, who had spent the night with her best friend. A fourth child was not home at the time of the fire.
If it wasn't clear to people in the Tumwater area how important the Cox family was before the fire, it was after.
Families packed the stadium and took seats despite the chilly temperatures to listen to statements from various family members, many not ready to speak publicly.
One family member thanked a number of families, businesses and friends who've already stepped up to help out.
"If there's anything we can learn from this tragedy it's to love one another, and hug and kiss our babies," she said.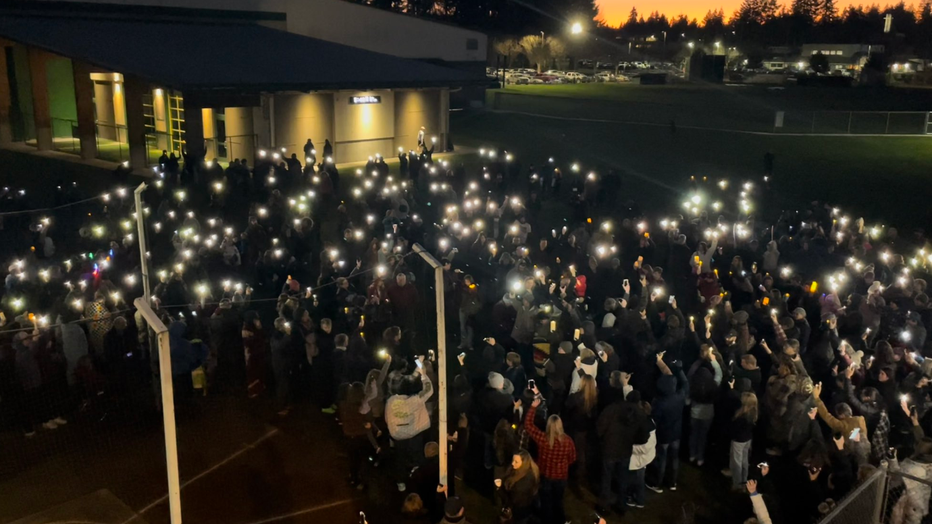 Several hundred packed the football stadium in Tumwater to bid farewell to the Cox family after a deadly fire.
Chelsea Hornback, mother of Kinsley – the sole survivor, told FOX 13 that her daughter was spending the weekend at the house as a goodbye. The Hornback family moved here with the military – they had planned to move away on Monday.
Instead, Kinsley was hospitalized following the fire. Hornback surprised the crowd of hundreds as she read a letter from Kinsley – first telling everyone that she was in attendance.
"She would have never let the doctors keep her," she said, as a thunderous applause rang through the stadium.
Kinsley's letter talked about how grateful she was for the family. How Steven had been like a second father to her, when her Dad deployed. How Destiny was an amazing mother.
Her explanation of the bond she shared with each of the children drew silence from the massive crowd. Her words, painful but seemingly needed.
"That morning may forever haunt me, but I want to let you know it will never ruin my memories," Hornback read for the crowd.
Afterwards, everyone filed into a field nearby Tumwater High School and help flashlights, battery operated candles and phones – a moment of silence was held for the Cox family.
Hornback said the Cox's daughter had made her promise to bring her out to visit in the future at a recent birthday celebration at the state fair. She now struggles with the reality that it won't happen.
"She'd never been outside of Washington," said Hornback, her voice breaking. "Now we've got to take her in our hearts everywhere we go. That's hard to live with, but that night we danced as a family like nobody was watching – me, my three kids and (her) not caring who watched. We laughed until we cried. That I'll cherish."
As for the Cox family, few details were available about what will happen with the boy who survived.
Neighbors explained that the grandparents lived on the same property within the Capitol State Forest, southwest of Olympia. In fact, investigators noted that they called 9-1-1 after seeing the smoke, and hearing cries for help.
Late last week following an investigation by the ATF, the Thurston County Sheriff announced that the fire did not appear to be linked to any foul play. Investigators have not yet been able to determine a cause yet, but they indicated that the fire was an accident.