Hundreds flock to Seattle's first recreational pot store; City Attorney buys weed, too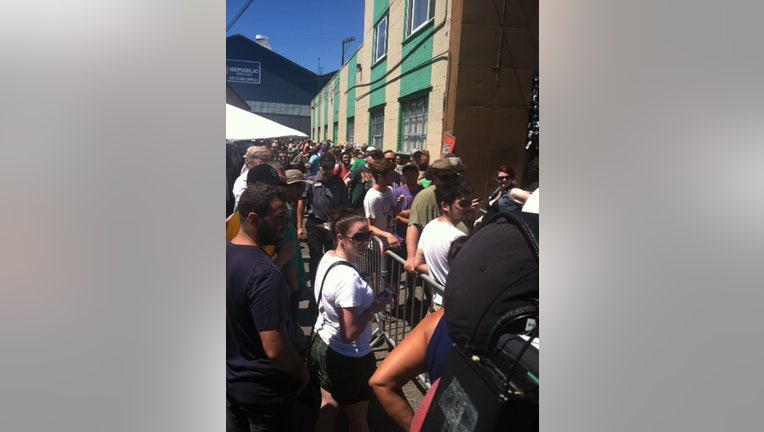 SEATTLE -- Just after noon on Tuesday, Seattle's first recreational marijuana store -- Cannabis City -- opened for business in the industrial Sodo district.

First in a line of about 250 people was Deb Greene, a 65-year-old grandmother who got her spot at 3 p.m. Monday and camped out there -- 21 hours before the shop was to open.

"It's like a candy store, like chocolate. You can't get enough," Greene said, beaming, as she finally got to enter Cannabis City.

Items for sale inside included packages of marijuana with names such as Copper Kush, OG Pearl, Sweet Lafayette and OG Kush.

Cannabis City got a 10-pound delivery early Tuesday morning, divided into 2-gram bags at $40 apiece.

Seattle City Attorney Pete Holmes was the fourth customer in line.

"The most important take-away here is that, today, marijuana sales became legal and I'm here to personally exercise myself this new freedom," Holmes said. "I bought two 2-gram bags of OG Pearl, which was recommended. I'm keeping one bag for posterity and one for personal enjoyment at some point when it's appropriate," said Holmes.



Other customers felt Holmes' purchase sends a strong message to the federal government.

"I'm inherently proud our city attorney has played a ground-breaking role in making this happen, this shift in public policy. He's backing up his words and is going to take some big, nice, long, deep tokes at home. I think it's alright," said customer Vivian McPeak.

Cannabis City owner James Lathrop said as of 5 p.m., they had served about 500 customers since they opened at noon.  The 10-pound shipment equated to approximately 2,200 bags and at 5 p.m. they still had 1,700 bags left.  He thought that would last through Wednesday and possibly into Thursday.  He does not have another shipment scheduled yet.

The store is open until 10 p.m. and reopens at 9 a.m.