Hundreds attend prayer service for mudslide victims


ARLINGTON, Wash. -- As of Friday, all but one of the 30 mudslide victims taken to the county medical examiner's office has been identified and there are still 13 people missing.

Those affected by the tragedy came together for a prayer service Friday night in Arlington.

They went in holding hands with heavy hearts.

Hundreds gathered to remember the dozens lost.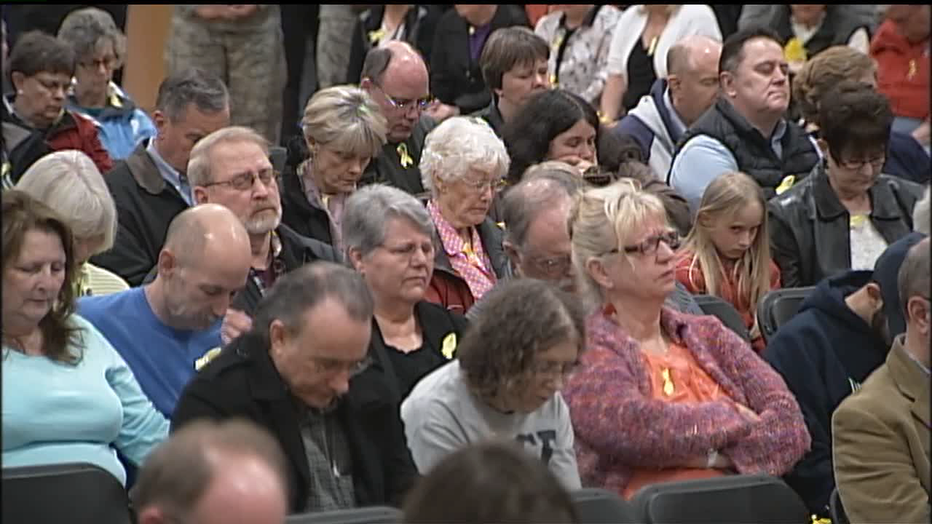 Hundreds attended a prayer service Friday night in Arlington for the mudslide victims. (Photo: KCPQ-TV)


"We are accustomed to tragedy as chaplains, but never like this. The number of victims is beyond understanding," chaplain Ralph Fry said.

The speakers talked about the ones who died in the enormous mudslide because each and every one had a special story.

"There are babies, there are mothers and fathers, young people, teenagers, a couple planning their wedding, and on and on it goes," Fry said.

Despite the huge loss, this small community is grateful for every survivor and they are praying for more.

"Some victims are the ones who miraculously survived. For that, we give thanks for miracles like little Jacob," Fry said, referring to a 4-year-old boy who was found in the mudslide debris field shortly after the slide struck on Saturday morning, March 22, and lifted to safety by a helicopter crew.

Gov. Jay Inslee and his wife, Trudi, attended the prayer service at Arlington's Haller Middle School, too.

"Today, Trudi and I visited two of the survivors at (Seattle's) Harborview (Medical Center) who are very inspiring, strong, resilient people who are coming back," Inslee said.

The governor reassured the victim's families that the state will not forget their misery.

Songs and scripture echoed through the packed gymnasium.

 

"It's amazing that people who are not necessarily religious will come. It's true especially in times of struggle," Arlington resident Kimberly Jantz said.

They can't turn back the time and change what happened but they can be here for one another.

"Lean on others -- that's all you can tell people," Jantz said.