House fire in Queen Anne was intentionally set, investigators say


SEATTLE -- A fire that destroyed one home and damaged two others in Seattle's Queen Anne neighborhood Monday night was intentionally set, the Seattle Fire Department said Tuesday.

"We believe someone ignited those combustible materials. The evidence doesn't show that this was an accidental fire," said Kyle Moore of the Seattle Fire Department.

The Seattle Police Department's Arson and Bomb Squad is trying to determine if the fire was the work of an arsonist.

Nancy Cooper is still in a state of shock after what happened at about 8:15 p.m. Monday. "I heard banging on my window and looked out and there was a wall of flames in my face," said Cooper.

She was one of 10 people displaced after a two-alarm fire in the 700 block of Warren Ave. in Queen Anne. The fire erupted in the back area of one home and then spread to two others, firefighters said. The fire severely damaged the first home.

"We were sitting in the living room and noticed an orange glow in the back windows, and we looked out the back and realized the garage was on fire," said Amy Jennings.

Jennings called 911 and people who live in the homes nearby started scrambling.

"I was pretty worried.  I tried to get important stuff out, like my passport, and then we moved our cars," said Elias Lukman.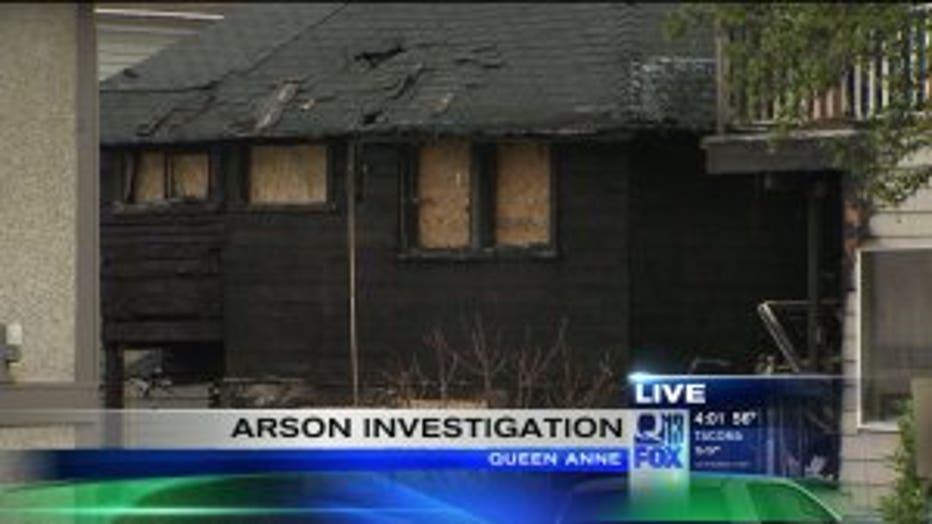 Everyone made it out safely and crews had the fire put out within 90 minutes. Investigators said they believe the fire started in a shed behind the first home. That shedwas filled with trash and other combustibles, including an old Christmas tree.

One of the homes is a total loss with more than $500,000 in damage. Contractors were on scene all day trying to determine if the other two homes are going to be livable.  Some of the tenants are staying with family while others are in a hotel provided by the Red Cross.