Hostages alerted cops to accused killer Dorner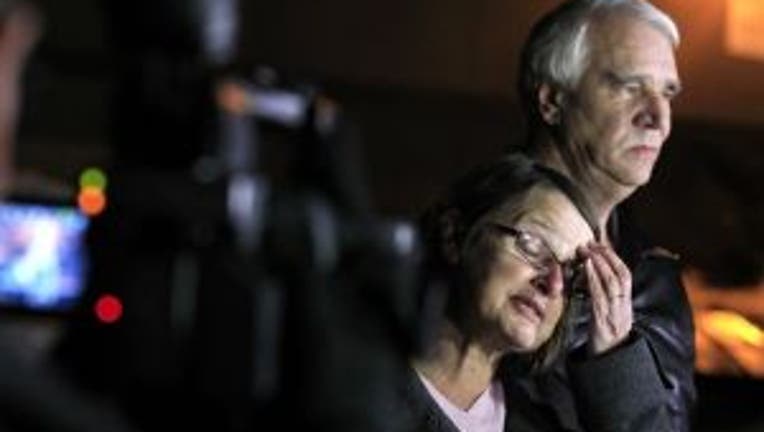 article


BIG BEAR, Calif. -- Accused killer and former Los Angeles police officer Christopher Dorner was apparently holed up inside a Big Bear area condo for as many as five days before he took the husband and wife who own the property hostage, the couple said Wednesday night.



Dorner tied the husband and wife up with plastic zip locks, stuffed small towels in their mouths so they couldn't scream and covered the heads with pillow cases, they said.

"I really thought it could be the end," 56-year-old Karen Reynolds told reporters.

She and husband Jim Reynolds, 66, provided new details on some of Dorner's movements in the apparent final hours of his life before he is believed to have died in a fire following a mountainside gunbattle with officers. Law enforcement authorities previously said the fugitive had held two cleaning women hostage. The Reynolds spoke to reporters to end the confusion.

The Reynolds said Dorner had been at the condo since as early as Friday when they arrived to do maintenance in the yard. He told them he was watching them while they worked during the day before leaving to sleep at another property nearby.

When they entered the condo about noon Tuesday, they said, they were surprised to find the fugitive former Los Angeles police officer inside. They said they were held captive for about 15 minutes.

The couple stumbled upon Dorner when they went upstairs. Once they saw him, they said, he brandished a gun and yelled, "Stay calm."

Karen Reynolds said she tried to run down the stairs, but Dorner chased after her and caught her. He then took the couple to a bedroom, where he tied them up.

Dorner was a menacing presence but at other times tried to reassure the couple that he did not want to harm them, they said.

"He tried to calm us down, saying very frequently, he would not kill us," said Jim Reynolds, who has owned the condo with his wife for 12 years.

Karen Reynolds said Dorner left the condo and stole their purple Nissan. At that point, she propped herself up and shuffled to her cellphone and grabbed it with her bound hands and called 911 using the speaker.

That call at 12:20 p.m. alerted authorities that Dorner was in the area and set in motion the chain of events that led to a shootout between Dorner and a Fish and Wildlife warden and the standoff at the cabin where he is believed to have died as flames consumed the wood-paneled structure.

The blaze was sparked after authorities fired incendiary tear gas into the cabin, San Bernardino County Sheriff John McMahon told reporters Wednesday afternoon.

McMahon denied speculation that officers intentionally set the fire, saying officers first used traditional tear gas to flush the man out. When that didn't work, they decided to use CS gas canisters, which are known in law enforcement parlance as incendiary tear gas. These canisters, filled with more potent gas, have a significantly greater chance of starting a fire.

"We did not intentionally burn down that cabin," the sheriff said.