Hospital says Gorge concerts a financial burden: 'We need to get paid'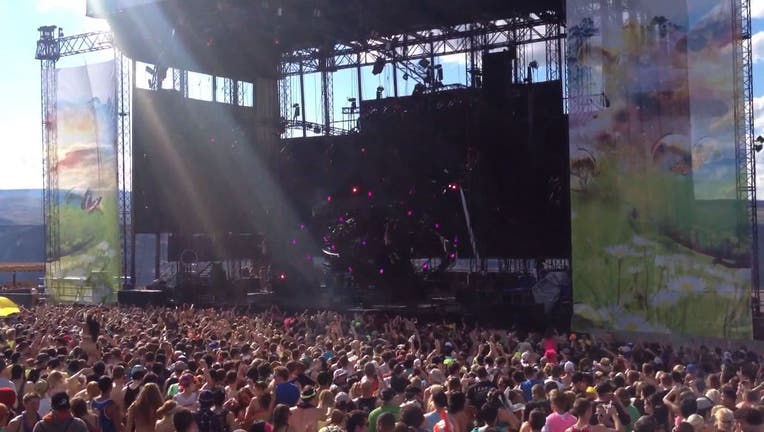 QUINCY, Wash. -- The Sasquatch music festival starts in just a few hours at the Gorge Amphitheater, and concertgoers are already streaming inside.

But the nearby hospital is also getting ready, by doubling their staff and preparing for the worst.

The Quincy Valley Medical Center spends nearly $500,000 each year for expenses related to concerts at the Gorge. Officials are now asking Live Nation, the concert promoter, to pony up some cash to help out.

On a normal day, this hospital sees around 10 people. But during a concert weekend, they see 40 to 50 people a day.

They treat everything from people suffering from dehydration and minor injuries to severe drug overdoses, and it's costing taxpayers a lot of money.

"We have those three rooms; we have two rooms in the back normally used for surgery recovery," said emergency room director Fernando Dietsch.



Hospital staff members are scrambling to get ready for what's likely to be a very busy weekend at the Sasquatch festival.

"This E.R. department was not built to deal with this kind of volume of patients," said Dietsch.

And the hospital administrator is sounding the alarm.

"Right now, the district is in financial crisis," said Mehdi Merred.

Every year, tens of thousands of concert fans fill the amphitheater. And like clockwork, dozens find themselves in the emergency room, with drug overdoses, alcohol poisoning and dehydration.

"These are 25,000 party people and that's why they're here," said Dietsch. "They're here to party and to party hard."

Last year at Paradiso, the hospital was overwhelmed with patients. One concertgoer died from a drug overdose.

Some say partying out in the middle of nowhere  -- and taking whatever is passed around inside the Gorge -- is the point of these festivals.

But Quincy Valley Medical Center is often left holding the bag – paying for extra staff and covering the bills that concertgoers don't pay.

"We cannot financially continue to carry the burden of $400,000 per concert season per year. We have to find a solution to this," said Merred. "Taxpayers deserve it, we deserve it, our nurses deserve it. We provide a service; we need to get paid for it. It's just that simple."

State Rep. Matt Manweller, R-Ellensburg, plans to introduce legislation that would allow Grant County commissioners to levy a $1 assessment for each ticket to recoup the hospital's costs.

Manweller and hospital administrators think that Live Nation, producer of many of the concerts, should help pay part of the bill.

Taxpayers like David Pierce agree.

"They're making lots of money, and if they want to continue to be able to do that, they need to work with the county so all our resources -- our police, our firemen, our hospitals -- aren't depleted for one weekend," Pierce said.

Live Nation says their people at the Gorge have met with hospital officials, but they don't say if they'll agree to raise ticket prices.

No matter what happens this holiday weekend, staff at Quincy Valley Medical Center say they'll be ready for anything.