'Horned' man sentenced to 3 consecutive life terms for murders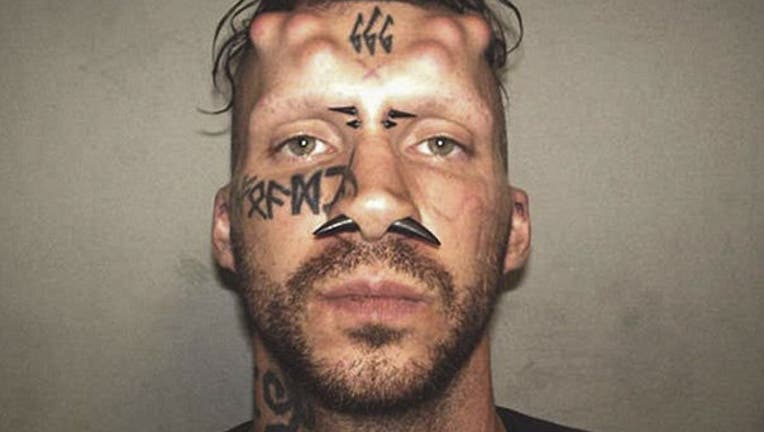 SPRINGFIELD, Mass. -- A man with surgical implants resembling 'horns' was sentenced Monday to three consecutive life terms for his role in the slaying of three men in August 2011.

On Friday, when he was found guilty of three counts of kidnapping, murder and witness intimidation, Caius Veiovis, 34, of Pittsfield, Mass., angrily growled at the jury: "I'll see you all in hell."

According to the Berkshire (Mass.) Eagle, the prosecutor at Monday's sentencing hearing read a statement from Ashleye Hall, the daughter of victim Robert Chadwell,  who said she was robbed of memories.

"He shattered my life and my family's," she wrote. "Veiovis is evil."

According to the newspaper, before the sentence was announced, Veiovis told the judge, "My hand was not in this. I didn't kill these men."

But the judge sentenced him to three life sentences, to be served consecutively.

The eight-woman, four-man jury found that Veiovis helped two other men -- Adam Hall and David Chalue -- kidnap and then kill 44-year-old David Glass, 58-year-old Edward Frampton and 47-year-old Robert Chadwell, all of Pittsfield, Mass., in August 2011.

Prosecutors said Glasser was killed to prevent him from testifying against Hall in another case and Chadwell and Frampton were killed to eliminate witnesses.

According to Masslive.com, after all the verdicts were read and as the jurors were filing out of the courtroom, Veiovis shouted "I will see you in hell; every single f---ing one of you. Remember that. I'll see you all in hell," drawing gasps from those present in the courtroom.