Honoring our nation's heroes – in life and in death


"To whom it may concern," read a letter from the King County Medical Examiner's Office.

It was about a 57-year-old man who died inside his apartment on Seattle's Capitol Hill. He'd lived in the quiet, brick building – in Apartment 409 – for more than a decade.

"… it was determined that he neither has the family nor the funds to handle his disposition. We have officially declared the subject indigent," the letter read.

The man's death certificate said little about him. His mother, father, religion, job, education – all listed as "unknown."

His remains were taken to the medical examiner's office, where they sat for nearly a month.

No one came forward claim him.

While little was known about the man from Apartment 409, his death certificate did reveal one important fact: he served honorably in the U.S. Armed Forces.

"In the Marine Corps, and in other branches of service, we try to take care of our own," said James Lindley, a director at Columbia Funeral Home in South Seattle.

Lindley, who served in the Marine Corps from 2000 to 2004, couldn't leave a fallen brother behind. He offered to take possession of the man's remains and give him a burial worthy of his service and sacrifice.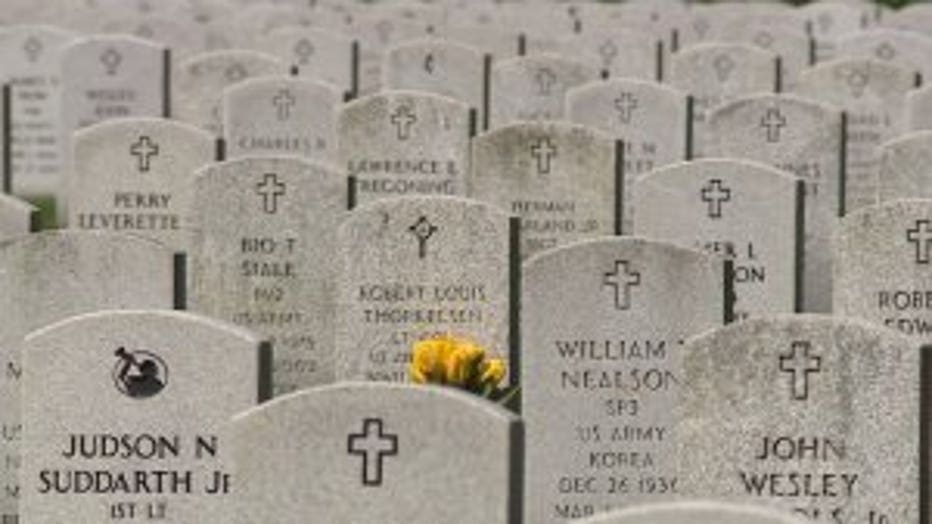 "As a society, it's time we stop sitting idly by," he said. "And that we take care of the people that put their lives on the line for us and that they are taken care of as heroes, because they are heroes."

But data suggests that a growing number of those heroes are dying poor.

In recent years, the King County Veterans Program has helped pay for the burial costs of more than 100 veterans who died indigent. The county offered $500 toward each of the burials – 19 in 2013, 32 in 2014, 37 in 2015, and 15 so far this year.

"This should be a basic right for somebody that has served this country – to have a burial that has dignity around it," said Bryan Fry, the program's manager. "You cannot put a price on what these men and women have contributed to our country and to the civil liberties we enjoy every day because of the cost that they paid for us."

Fry, himself a veteran of the U.S. Navy, said it is hard to see our nation's heroes struggling at the end of their lives.

"When you come out of the military, oftentimes that's when those veterans become isolated," he said. "This is where, potentially, the problems start. Having 30 veterans in a year be indigent and pass away with really no resources for a burial with dignity? It's quite concerning."

While the VA does help cover certain costs for veterans who pass – like a free plot at a national cemetery – it isn't enough for some.

For those who serve honorably, but whose death is not related to their service, the VA offers $300 toward the cost of a burial. That figure, set by Congress, has not gone up since 1978.

"I have encountered many families that have financial difficulties and have to resort to the bare essentials and basics," Lindley said. "They take, usually, a cardboard or a plastic urn to the national cemetery, because they can't afford anything different."

Lindley wanted better for the man from Apartment 409.

He started making phone calls – calling other veterans, an honor guard, police officers, firefighters, and others.

On April 6, nearly two months after his death, strangers gathered to honor the man from Apartment 409 – a man they knew very little about.

"I'm pretty sure all of you never knew the person that we're honoring," Dale Amundsen, former head Chaplin for the King County Sheriff's Office, said to the crowd.

The man's casket, draped with an American flag, sat at the front of the room.

"We don't know his hobbies, we don't know his political persuasions or how he voted. We don't know his religion. We don't know his favorite movies, his favorite music. We just don't know," he said. "And maybe that makes this all the more compelling. We do it because he's a veteran."

The strangers joined a procession from Columbia Funeral Home to Tahoma National Cemetery, where the man was laid to rest with full military honors.

Each person in the crowd felt compelled to be there.

"We're his family now. Nobody wants to claim him? We will," said Dave Eady with Elite Motor Escort. The company provided its services free of charge.

"We all feel the same way. We all want to help," said Thom Fermstad with VFW Post 3348, who offered to be a pallbearer.

"It just proves how much people want to honor our veterans and take care of them," said Thomas Yokes, Director of Tahoma National Cemetery.  "No matter who they are."

The man from Apartment 409 did have a name – several names, actually.

Born Ronald Keith Nold, he joined the U.S. Army in 1974 and served until 1979.

Known by some of his friends as Ronald Shevuah, he is remembered as a smart, kind man who "couldn't have been friendlier."

"Ron was an artist and musician who always had a unique perspective on life," said Sarah Rose Nottingham, who went to church with him. "He was very grounded and saw things through clear eyes. He was welcoming and interested in new points of view. He didn't go out of his way to approach people often, but if a conversation began organically he was ready to participate."

Ronald was known by many of those who shared that quiet, brick building with him on Capitol Hill. He never missed a block party.

Then there's the young man he met in 2003 while camping along the Oregon coast.

"We took local transit buses all up and down the coast checking out all the sites, traded stories and drank whiskey together. We would call him Ian Malcolm because we thought he looked like Jeff Goldblum," Toby Hearsey recalled.

"He was by far one of the friendliest people I've ever met and I felt very fortunate to have gotten to meet him."

Years later, Hearsey still has some photos he snapped of Ronald from the camping trip and postcards Ronald sent him from his travels around the world.

"Bangkok is very loud, crowded, and polluted, but still cool enough to see," one of the cards read.

Ronald tried several times to further his education, but had difficulty finding a job in his field of biotechnology. He attended the University of Washington, then Seattle Central College near his apartment.

Years later, one of his classmates from Seattle Central would see him working as a janitor at CenturyLink Field.

"I didn't say hello," she said. "I wish I did. I guess going back to school had not worked out for him in the end."

In fact, Ronald had fallen on hard times.  He had reached out to the King County Veterans Program for food and housing vouchers. In total, they helped him cover $1,446 in expenses from 2006 to 2011.

His last contact with the program was in July 2011.

"For this particular month or instance, he needed assistance to be able to stabilize his housing," Fry said.

The last check the program cut for Ronald was for his burial – offering the same $500 assistance that had been given to many indigent veterans before him.

The story of Ronald. K. Nold – the man in Apartment 409 – is just one story out of far too many. A story of service and sacrifice, followed by years of struggle – struggle both in life, and in death.

"At least Ronald was taken care of the way that he should have," said Lindley, with Columbia Funeral Home. "And I just hope that we can put something in place to help make sure that these veterans don't become indigent. Because they don't deserve that."

Ronald Nold's death has since changed the way that King County handles the remains of veterans who die indigent. Before, remains could sit at the medical examiner's office for months before cremation. Moving forward, the office will turn over such remains to Lindley and Columbia Funeral Home – where the heroes will get a burial worthy of their service to our country.