Homeowners raise stink over stench of sewage, blame nearby business: 'It burns your eyes ... throat'
PACIFIC, Wash. -- Some homeowners in Pacific are blaming their industrial neighbors for the stench of sewage. Their neighbor is a septic receiving station for Honey Bucket and Flohawks portable toilets.

"It burns your eyes. It burns your throat. It just engulfs this area and it's just awful," homeowner Samantha Niemi said Monday.

Niemi, a stay-at-home mom, almost gags just talking about it.

"Imagine they're pumping all of this sewage and all of those odors are going into the air and it's literally just sitting in your house, on your clothes, in your mouth. It's so bad."




Nieme was describing her neighbors, Northwest Cascade Inc. – located just a couple hundred feet from her front yard.

Nieme said the property was "light industrial" when the first-time home buyer purchased her house and the lot was used for semi-trucks to park at night -- something she said never used to bother them.

The problem with Northwest Cascades, she said, is "they're cleaning the poop out of Honey Buckets and they're bringing all of that waste to this property as well to process it."

According to their website, Northwest Cascades Inc. provides civil construction and sanitation services.

However, some residents that live along the King and Pierce County line between Yakima Avenue and Milwaukee Boulevard say those sanitation services forced them to spend more time locked inside their homes.

"It was really hard to be outside, even for a couple minutes," said Anna Shtogryn, mom of three, and part of a homeowners' class-action complaint against the company.

Several homeowners say the smell, which has some neighborhood kids covering their faces or gagging while outside, started about two years ago.

Since then, Nieme and Shtogryn say nearly 50 other homeowners have signed a petition to make the stink stop.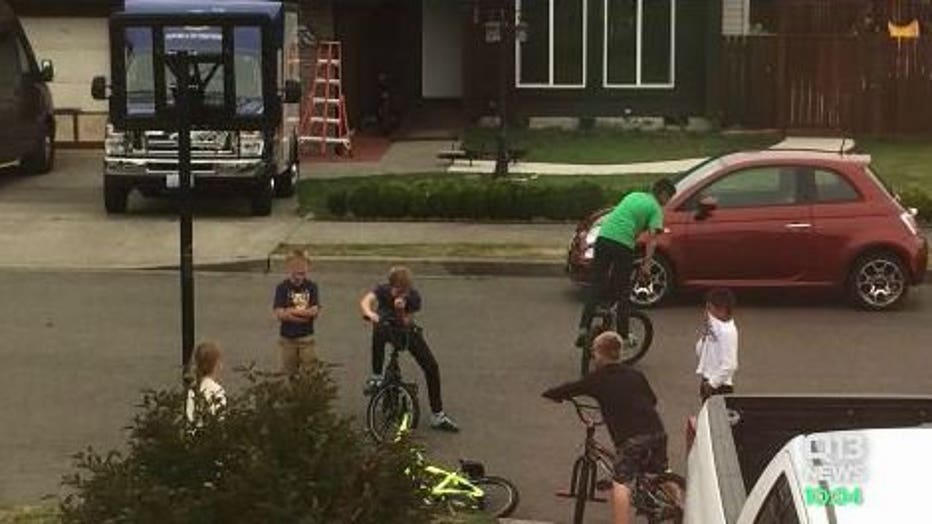 "I remember one 4th of July the smell was outside, we canceled our BBQ party because it was hard to be outside," said Shtogryn, who also described numerous occasions where outdoor plans were canceled, even one instance where her family's clothes reeked of sewage while they went to church.

Both moms, along with two other homeowners, have already filed a class action complaint stating in part that "Hazardous odors, gases, fume and contaminants have been and are being released from the Honey Bucket facility property," something they say interferes with the enjoyment of their homes, not to mention the value of their property.

Nieme says the worst of it comes on foggy mornings, "It's like eating it, you're literally gagging."

Northwest Cascade Inc. – the defendant in the suit – disagrees, stating in court documents a declaration from JR Inman, the company's vice president, that it takes "odor mitigation seriously" and states that despite the fact the complaints have not been verified by Puget Sound Clean Air Agency that "NWC has been working proactively to limit the possibility of objectionable odors emanating from our facility".

In a statement to Q13 News, the company's laywer, Jim Robenalt, said "Northwest Cascade has been in business in the Pacific Northwest for 50 years, and believes the evidence and law are on its side with respect to this lawsuit. However, because the litigation is ongoing, we will not provide any further comment at this time."

In court documents, Northwest Cascade admits it washes empty portable toilets on the property, but says their contents are pumped out before being brought to the site.

But the homeowners in this Pacific neighborhood won't stop until there's a solution.

"We're fighting for the kids in this neighborhood, our homes and our families," said Nieme.