Homeowner says damage from fallen tree was preventable


PORT ORCHARD, Wash. -- Last weekend's wild storms left one family with a big mess on their hands.  A huge tree fell across their yard, damaging their roof and totaling their car.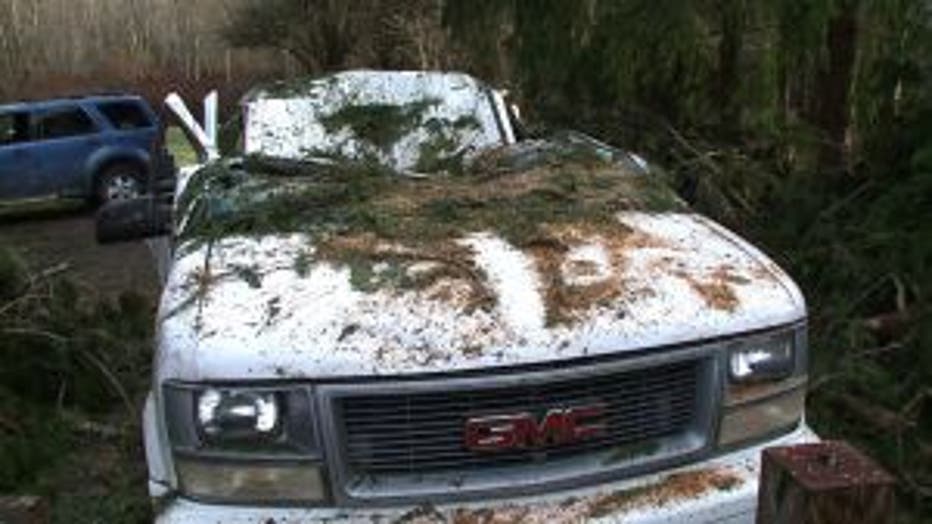 They say it all could have been avoided if their neighbor just cut down the tree before the storms hit.

"I think I'm still in shock," homeowner Gloria Salzano said Wednesday. "I knew it was going to happen but I can't believe it happened."

Gloria Salzano and Vance Morse woke up to a huge rumble early Saturday morning.

Their van was destroyed, and now a blue tarp on the roof is all that keeps the rain out of their home. The tree that fell sits on their neighbor's property and Salzano says she's tried everything to get it removed.

Salzano says her letters and emails to the neighbor have gotten her nowhere.

The neighbor didn't want to go on-camera but she claims to have spent more than $6,000 trimming the massive cedar – and she even had the tree cabled to secure the massive limbs.

But last weekend's storms brought them down anyway.

"I wanted her to do the right thing," said Vance. "I wanted her to take the thing down before it comes down and kills her, kills that neighbor or kills us."

Gloria and Vance's homeowner's insurance will cover the damage to their van and their roof – but coming up with the $1,500 to cover the deductible will be tough.

They are both disabled and on a fixed-income.

They're now hoping other homeowners will come up with a plan to deal with large trees before they come falling down.

"What I see is something that could have been prevented," said Salzano.

The state insurance commissioner says your homeowners policy should cover damage to structures, vehicles, or if the tree falls in your driveway.

But if a tree lands somewhere else on your property, you'll likely have to pay out of pocket to remove it yourself.