Home sweet home: Seahawks cruise over Jets 28-7 at CenturyLink Field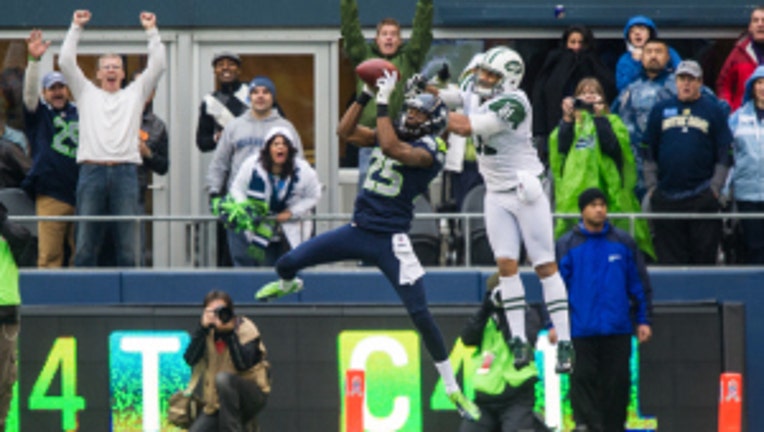 SEATTLE—
The Seattle Seahawks' home field advantage continued Sunday.

Continued, and then some.



---



The Hawks cruised to victory against the New York Jets, winning 28-7 Sunday afternoon at CenturyLink Field.

And while the Hawks offense certainly performed Sunday, including a razzle-dazzle trick play involving two wide receivers, it was the defense that truly shined.

The Jets offense, anchored by struggling quarterback Mark Sanchez, was shut out from the endzone, with the Jets only score coming on a 21-yard fumble return from defense end Muhammad Wilkerson. Sanchez was held to a 40.7 passing rating, going 9-for-22 with 124 yards and one interception. The Jets only managed 185 yards of offense and gave up three turnovers on a rain-soaked field.

Seahawks first-round draft pick Bruce Irvin came off the edge for two sacks, adding to a total of five for the season. Richard Sherman also boosted his interception total, picking off Sanchez in the endzone to end a strong drive from the struggling Jets offense in the first half.

In the lone bright spot for the Jets, backup quarterback Tim Tebow went 3-for-3 for eight yards, adding fuel to the question if Sanchez should be replaced as the Jets' starting quarterback for the remainder of the season.

Everything on the other side of the field ran smoothly for the Hawks. Running back Marshawn Lynch rushed for 124 yards, bringing him to over 1,000 yards on the season. Rookie quarterback Russell Wilson went 12-for-19 with two touchdowns and no interceptions.

And in an interesting bit of fun from head coach Pete Carroll, the Hawks sealed the deal on a 23-yard trick play TD pass from wide receiver Golden Tate to Sidney Rice with 7:59 left in the 4th quarter.

The victory gives the Hawks a 6-4 record, with a perfect 5-0 record at CenturyLink Field this season. After a bye-week, the team will head to Miami to face the Dolphins on Nov. 25.